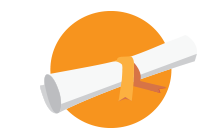 Each Unisa qualification is structured in such a way that you need to pass a certain number of modules within a certain amount of time in order to graduate.
Structured / coursework master's degree students must select and pass two modules before registering for the Research Proposal Module, unless otherwise stated in the curriculum of the qualification.
Research master's and doctoral degree students must register for and successfully complete the Research Proposal Module before registering for the research component.
The outcome of the Research Proposal Module for all master's and doctoral degree students is an acceptable research proposal, which means that you either comply or do not comply with the requirements. No mark is awarded for this module. Students may submit two draft proposals, and a third and final proposal. If the third attempt is not successful, you won't be able to continue with your studies. Refer to section 6.6 in the Procedure for studies for master's and doctoral degrees.