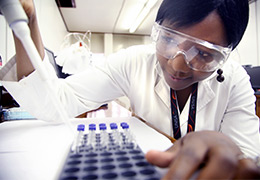 Unisa's eight colleges and School of Business Leadership all aim to produce research excellence across various research areas and institutes.
The college's research is formed by two broad focus research areas. These are: (1) teaching practices and ODL, as well as (2) research on the environment, health and sustainable livelihoods.
At CEMS, there is a steady growth in research activities and output within more than 19 disciplines in 13 academic departments as well as within the Bureau of Market Research (BMR) and the Institute of Corporate Citizenship (ICC).
Members of the College of Education staff have published various books including The Educator as a Learning Programme Developer (du Plessis, EC & Booyse, C, 2008) and Our Environment: Our Stories (le Roux, CS. 2008).
Academics and postgraduate students at the College of Human Sciences are engaged in cutting edge basic and applied research which focuses on expanding our knowledge of the disciplines, teaching and learner support.
The College of Law focuses on various research areas including Bio-technology and Medical Law, Crime Studies, ODL and Dispute Resolution in Africa.
CSET supports the research goals and strategies of Unisa. It does this by focusing on two of Unisa's five research themes: Innovation and capacity building in science and technology and Open Distance Learning.
The CGS is Unisa's answer to the national need to provide high-calibre researchers for the knowledge economy. Our constituency of about 10 000 master's and doctoral candidates represents a large slice of the research potential in South African universities.
The College is committed to providing relevant research that makes a significant contribution to practice and industry in South Africa and Africa. Our research focus areas fall under the broader categories of taxation, auditing, financial accounting and management accounting.