Unisa's eight colleges and School of Business Leadership all aim to produce research excellence across various research areas and institutes.
Whether figuring out how to clothe a population that is changing shape, exploring ethical ways to commercialise indigenous crops or using geographical information system technology to help fight crime, the college's researchers are finding solutions to some pressing societal problems. CAES research has five main focus areas: botany, indigenous crop and ornamental horticulture research; animal production and wildlife research; climate change, environmental, geographic monitoring and geomorphology research; molecular science research; and human, socioeconomic and behavioural research. All this is underpinned by an extensive research ethics system, which includes two CAES ethics committees that meet monthly to review applications for research involving humans, animals, plants, biomedical and environmental matters and genetically modified organisms.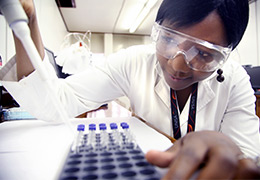 Research at CEMS has grown from a few pockets of excellence to a college-wide enterprise that encompasses 19 disciplines in the economic and management sciences. Despite the wide range of disciplines covered, the college succeeds in keeping its researchers and research focused by concentrating on projects that contribute to the wellbeing of South African society. A few examples are the work being done on personal finance, problems related to the youth of South Africa and macroeconomic policy analysis. CEMS invests readily in developing research capacity, encouraging researchers to improve their qualifications and supporting them in applying for National Research Foundation rating.
Testimony to the strength and quality of research at the College of Education is that it is home to not one but two chairs awarded by UNESCO. Over and above these two chairs, specialising in research in open and distance learning and in early childhood development, the college is the custodian of several flagship projects investigating critical issues in school and teacher education. Among them are the 500 Schools and Vhembe Schools projects, investigating the underlying causes of underperformance in Grades 3 to 6 and Grade 12, and Dynamics of Violence in Schools, a joint project involving researchers in South Africa, Brazil, Pakistan and South Africa.
With over 60 NRF-rated researchers, including one of two A-rated scholars in the Unisa community, the College of Human Sciences is one of the most productive and proactive research engines at the university. Researchers are encouraged to challenge the status quo at the university and more widely in society. An example of this in practice is the decoloniality project, with its annual summer school and master's and doctoral mentorship. Another example is Africa Speaks, where scholars from Africa and the African Diaspora help build capacity among younger academics. More and more research is being done on open and distance learning, especially in the virtual learning sphere.
Much of the research coming out of the College of Law has a strong element of community engagement and collaboration, recognising that researchers can learn as much from communities as communities can from them. More often than not, the outcome of community-engaged research is publishable academic work and workable solutions relevant to a particular community and potentially replicable. A prime example is the research emanating from the College's Institute for Alternative Dispute Resolution in Africa (IDRA), as well as from flagship community projects in the areas of child justice, biotech and medical law, social security and access to justice, to name a few.
Green energy and clean water for all are two of the best-known research drives of CSET, which also has a strong research presence in nanotechnology, topology and information and communications technologies. In addition, groups of researchers across the College are adding to the body of scientific knowledge on the use of open and distance learning (ODL) technologies in the teaching of SET. Researchers from this College have been the first at Unisa to have their inventions patented, in collaboration with the university's directorate of innovation and technology transfer, and to receive seed funding from the Technology Innovation Agency.
College of Graduate Studies
Home to three research chairs and five research institutes, the College of Graduate Studies lives up to its ethos as a research-intensive entity that has moved beyond monodisciplinary confines. Multi-, inter- and transdisciplinary research approaches are crucial when investigating complex challenges such as multilingualism, land reform, national identity and the various kinds of African families that exist, to mention just a few of the research projects that are under way. The College of Graduate Studies is well known for its calendar of high-level postgraduate academies and seminars, such as the annual Interdisciplinary Academy with its six streams on men and violence, social protest, drug discovery, cosmology, water scarcity and sustainable energy.
The central role that the accounting sciences play in the South African and global economies opens up a multitude of research possibilities that the College's researchers are seizing. Relevant topics ripe for discovery include tax compliance, public sector financial efficacy and fiscal policy compliance. In all, the College has identified six major research focus areas that span the accounting sciences spectrum, from auditing to financial intelligence and taxation. In terms of research support, an important priority is encouraging staff to complete their master's and doctoral studies.