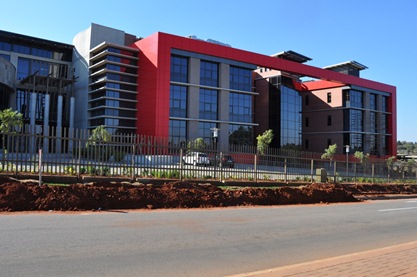 The College of Agriculture and Environmental Sciences has a vision of excellence and a strategic objective for Excellence in Research.

As scientists we pose the question "If not Excellence then What?". This question is posed for us to reflect specifically in research and innovation what would we like to achieve? In our current college plan we look at two major areas viz. postgraduate studies and research and innovation, and have set out baby steps to work towards that excellence.

Reflecting on excellence brings the realization that it is not a destination as such, but rather a journey. It makes us reflect on what behaviours must we learn (or unlearn), what are our standards and targets for both ourselves and our students, how do we stretch ourselves that little extra to be above average to go beyond the mediocre?

Research and innovation more and more requires partnerships to achieve excellence, how do we select our partners to ensure we stay on the journey of excellence?
Research focus areas:
Botany, indigenous crop and ornamental horticulture research
The research includes a broad spectrum of plant-based studies covering aspects such as characterisation, cultivation and the identification and recognition of indigenous knowledge systems of various plant species in South Africa. Research on environmentally sustainable and economic viable horticulture practices is conducted to assist plant growers in improving plant production and the quality of commercial plants in South Africa.
Animal production and wildlife research
The research focuses on the health, nutrition and welfare of domestic and wild animals in South Africa. Attention is paid to non-conventional feed resources, feeding strategies and health and food safety concerns. Animal breeding, production and livestock extension are also researched with specific attention to livestock and wildlife diseases that may be specific to South Africa or the broader African context.
The Applied Behavioural Ecology & Ecosystem Research Unit (ABEERU) conducts basic and applied research to solve industry-related problems within the field of nature conservation. Its research is aimed at acquiring knowledge on indigenous wildlife and vegetation (species and ecosystems) in the natural environment as well as the monitoring of their reaction to different management measures. The scope of research conducted by ABEERU focuses on the reaction of all components (biotic and abiotic) of ecosystems to changes in the urban and natural environment. ABEERU has three permanent research sites in three different biomes where various research projects are undertaken by national and international researchers and their students.
Climate change, environmental, geographic monitoring and geomorphology research
+The research is very specific to CAES with researchers investigating the effect of climate change on land, vegetation, humans and animals. Climate change research includes studies addressing concerns related to environmental pollution, substances harmful to the environment (ecotoxicology)and remediation studies and identifying the possible relationship to climate change. The newly established Cliamte Change Collaboration Centre supports and promotes climate change-related studies conducted by CAES, in conjunction with the University of Pretoria and the ARC-Institute for Soil, Climate and Water. Water-related research, as one of the most important resources in South Africa, features in this research area which includes waste water and natural water management and its effect on society, animals and the environment.The earth in terms of its geomorphology is a further focus of researchers at CAES which includes Geogrphic Information System-related research within this field.
Human, socio-economic and behavioural research
The research includes various studies dealing with issues in human settlements in South Africa or in the African context that may include studies related to rural socio-economic change and community-engaged research. Consumer-related research on current issues in the broader society in South Africa is also a main focus of research at CAES which includes nutrition, food, clothing and green behaviour-related studies.
Molecular science research
The research is specific to CAES where researchers are interested in molecular biology, bioinformatics, photochemistry and medicinally active plant compound research to name but a few areas.