Department of African Languages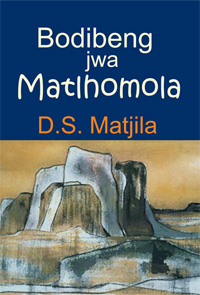 Bodibeng jwa matlhomola is a Setswana novel written by Prof Sekepe Matjila. This novel highlights various themes which premise exasperation, predicament and setbacks that beset a divided nation of South Africa. The overall thesis of this creative work is based on political nuances of racial segregation, exploitation and oppression. Bodibeng jwa Matlhomola stands as a voice from the perspective of the politically dispossessed black South African.
This novel explicates Matjila's incisive and insightful critique, first analyzing his exposure of the authoritative political discourse, and second, analyzing his sources mainly drawn from his research. Matjila's sardonic literary style reveals his awareness of the incongruity between the removed and remote position of Europeans (and, we can infer, whites more generally) and the position of natives (his own people) who could neither escape nor avoid the political devastation wrought in their lives. Matjila employs literary devices such as flashback and foreshadowing to link his events and create an authentic and realistic setting.
Matjila's novel traverses countries like Botswana and Lesotho and continents like Africa and Europe. Bodibeng jwa Matlhomola spans worlds of human experience and human suffering. The events are fascinating and absorbing and the information is entertaining and educative. This is a smart suspense novel, an ingenious mixture of paranoid thriller, history, culture and folk. Matjila utilizes conjunctures such as allusion, conflict of ideas and scepticism in his narration as well as a mixture of simple and complex sentences. Bodibeng jwa matlhomola is a constant reminder to all South Africans to understand where we come from, where we are and where we are heading as a nation. Read this novel and learn about:
different traditions and customs of neighbouring African as well as European states;
marriage of Inconvenience between Sir Seretse Kgama and Lady Ruth Kgama (Mohumagadi);
treatment of South African exiles in African and European states
utilization of folk-tales, mythology and cultural history in the presentation of events
Last modified: Thu Jun 29 09:54:51 SAST 2017