Honours degrees & postgraduate diplomas
ODeL is a different way of learning... there is a physical distance between you and your university. For most of us, this means that our previous learning experiences will not have prepared us for the Unisa study journey. In open distance e-learning, YOU are responsible for planning your studies and managing your time effectively. You don't attend daily lectures. You learn from a distance and you connect to the university mostly via the internet. If you completed your previous qualifications at a residential institution, it is especially important that you think about the adjustments you need to make to be a successful Unisa student.
But this doesn't mean that you are on your own. Unisa has several support services for our students - from tutorial support and counselling, to online tools. The "distance" in open distance e-learning means that most of your interactions with Unisa will take place at a distance - mostly in digital format.

Your study material
Your study material will consist of written content, whether on paper (eg prescribed books or textbooks) or online (eg myUnisa), instead of listening to a teacher or lecturer in a classroom. In some instances, Unisa provides access to computers and the internet at our regional offices and other partner organisations, but you must have your own computer and access to the internet.

Your study world
The best way to cope with open distance e-learning is to take full responsibility for your own learning experience and environment. Your study world will be the environment you create - a room at home, a desk somewhere at work and, of course, the connections you make and the virtual networks you develop.

Your time
You will also need to remind your friends, family and work colleagues that your studies demand a lot from you, because they will probably forget that you are studying and make demands on your time.

What is it like to be an ODeL student?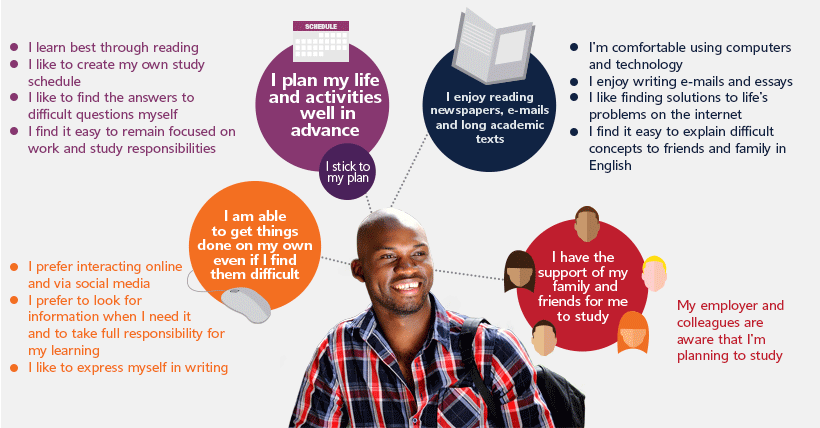 I plan my life and activities well in advance

I learn best through reading
I like to create my own study schedule
I like to find the answers to difficult questions myself
I find it easy to remain focused on my work and study responsibilities

I enjoy reading newspapers,
e-mails and long academic texts

I'm comfortable using computers and technology
I enjoy writing e-mails and essays
I like finding solutions to life's problems on the internet
I find it easy to explain difficult concepts to friends and family in English

I have the support of my family and friends for me to study

My family, employer and colleagues are aware that I'm planning to study

I get things done on my own even if I find them difficult

I prefer interacting online and via social media
I prefer to look for information when I need it and to take full responsibility for my learning
I like to express myself in writing

Student services & support
As an open distance e-learning university, there is not much face-to-face contact between Unisa and our students. Nonetheless, our students come first and we provide many services to support you during your Unisa journey, such as our libraries, counselling services, regional centres and various student bodies.

Unisa provides you with several support services that will help you on your journey:
myUnisa

Unisa's online student platform is the university's most important study tool. It is how you will communicate with Unisa and how Unisa will communicate with you.

myLife e-mail account

All registered Unisa students get a free myLife e-mail account. Important information, notices and updates are sent exclusively to this account.

It is your responsibility to activate your myLife e-mail account as soon as your registration is finalised. Your myLife e-mail account will be the only e-mail account recognised by Unisa for official correspondence to and from the university, and will remain the official primary e-mail address on record at Unisa. Click here for Unisa's rules for students.

Social media
Facebook, X / Twitter, LinkedIn and YouTube are great channels through which to share ideas, find other students, ask questions and generally stay informed.
Unisa Radio
Internet-based Unisa Radio is a vibrant and informative platform of information and topics focused on our Unisa students. Its programming consists of music, informative interviews and talk shows.
Regional centres

You may visit a Unisa regional centre to connect to Unisa, get advice, meet other students, make use of Unisa services, have conversations with counsellors, use the Academic Literacies services or use a computer (a limited number of computers are available at the regional centres).

The Dean of Students and Student Affairs

The different directorates and divisions within the Student Affairs Department play a key role in connecting students by responding to enquiries and addressing issues such as student social development, student governance and leadership development, and the needs of students with disabilities.

Student counselling
Unisa's counselling services provide career, academic and personal support to students. Support is available online and by e-mail, in person and by telephone.
Library

The library is one of the university's indispensable resources. Knowing how to use it (and using it extensively) is central to the successful Unisa student experience. The Unisa library is the largest academic library in Africa, containing almost 3 million items, including books, reference resources, e-books, e-newspapers and e-journals.