Unisa's Science Campus has one of the most impressive collections of high-end lab equipment in Africa.
In the past, science students at Unisa had to make use of facilities at other universities to complete their practical sessions. However, with the building and commissioning of the laboratories at the Science Campus, students in the sciences now have access to Unisa's own laboratories, housing some of the most state-of-the-art infrastructure and laboratory equipment available.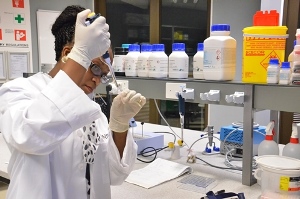 The Science Campus creates an environment that truly stimulates research and innovation, supports researchers and scientists, and meets the educational and training needs of Unisa's distance learning students at both undergraduate and postgraduate levels.
Laboratories in the Eureka Building
Laboratories utilised by the College of Agriculture and Environmental Sciences, and the College of Science, Engineering and Technology.
College of Agriculture and Environmental Sciences
Animal health and physiology
Anatomy and physiology laboratories are used to conduct animal health practical work for undergraduate students. Biological research in this discipline focuses on One Health (World Health Organization) issues of medical importance.
Anatomy and Physiology laboratory
Zoology laboratory
Parasitology laboratory
Molecular biology
Molecular biology focuses on studying the inner workings of a cell using multidisciplinary approaches by drawing expertise from other scientific fields such as chemistry, physiology and physics to address global health challenges. Unisa's laboratories prides itself in having the following research areas within this discipline:
Microbiology


Mycology
Bacteriology
Virology

Human physiology
Tissue Culture
DNA-Sequencing
Biotechnology


Fly Laboratory (Cancer research – Drosophila model)
Protein Biochemistry
Genetics

Biochemistry
Mycology
Bacteriology
Virology
Fly Laboratory (Cancer research – Drosophila model)
Protein Biochemistry
Genetics
Indigenous Knowledge Systems – (Drug discovery)
Plant Science

Phytochemistry
Metabolomics
Environmental sciences
This is a multi-disciplinary field in academia which intertwines complex approaches to analyse environmental problems, raises awareness and provide solutions to existing environmental problems. Of those disciplines, our laboratories encompasses the following:
Geology laboratory
Soil Science laboratory
Nutrient and food analysis laboratories
Food security is an important and basic human right which has gained global attention in the research space. In order to contribute towards the national food security solution plan, Unisa's nutrient and food analysis laboratories conduct research and analysis that focuses on food nutrition in relation to diet where food scientists work hand in glove with nutritionists.
Nutrient Analysis laboratory
Food Sensory Evaluation laboratory
Horticulture Centre
Horticulture being the art of growing plants for food, ties in with Unisa's contribution to provide food security solutions. The centre encompasses the following facilities:
Greenhouse Nursery tunnels
Educational gardens
Herbarium

College of Science, Engineering and Technology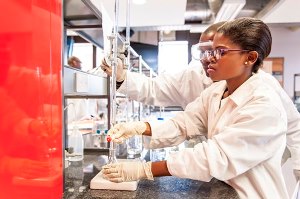 Unisa Nanotechnology & Water Sustainability Reseach Laboratories
The Nanotechnology and Water Sustainability (NanoWS) research laboratory activities seek to address current and emerging issues relating to water quality and water scarcity. We develop technologies that use conventional and innovative methods in order to help provide alternative water resources and ensure that water is treated to acceptable levels suitable for its purpose. These laboratories are equipped with research equipment that are used mainly for postgraduate training. The research activities that are being carried out focus mainly on water and environmental quality. Analysis of pollutants in water, assessment of toxicity of these pollutants, form in which they occur and how to remediate the environment from the core activities in these laboratories. This stems from the fact that challenges related to water quality and water availability touches every aspect of life, health and economy.
The laboratories are equipped with facilities that are useful in various categories of research activities such as:
Analytical and environmental analysis
Facilities for this research theme comprise of state-of-the-art equipment for the analysis and quantification of different types of pollutants that may be present in the environment including persistent organic pollutants such as chlorinated pesticides, pharmaceutical residues, hormonal residues also, biotoxins, microbial pathogens, heavy metals. The equipment has the capability for other types of samples including food and forensic samples, petroleum products, etc.
Membrane science and nanostructured materials
facilities under this theme are also state of the art and are useful in testing and verification of the composition and the performance of materials that are fabricated in order to remediate contaminated sites. Moreover, these projects extend to address water challenges as experienced disadvantaged urban and rural communities. Among the activities that are being carried out in these laboratories include the development of affordable but effective technologies for water purification systems suitable for such communities.
The laboratories are housing equipment that are brand new, recently commissioned and are not only available in many laboratories in the country but also in the continent in general.
About 65 graduate students (M and D) and 10 postdoctoral fellows are currently involved in these projects in order to generate a class of highly skilled personnel who will be resourceful in tackling such challenges. This is also meant to address important issues that are stipulated in the national development plan (Water quality, health and education).
Researchers are also having a strong and very active regional and international collaborations with their counterparts in world-class institutions. These include, Ghent University (Belgium); Wageningen University and TU Delft University of Technology (The Netherlands); University of California Los Angeles (USA), Cranfield University (UK), Indian Institute of Science and Technology (India), University of Swaziland (Swaziland). In these collaborations, researchers engage each on co-supervision of graduate students and exchange visits (students and staff).
Researchers have a working collaboration with industry within South Africa. Among the industry that are in this collaboration include, ESKOM, Randwater, Johannesburg Water and Magalies Water. The collaboration with industry involves, training of staff from industry, exchange of technology especially in water analysis and purification.
Human Computer Interaction (HCI) Usability Laboratory
Usability means making products and systems easier to use and matching them more closely to user needs and requirements. Usability testing involves measuring the performance of typical users (e.g. ease of use, task time, user satisfaction) on products, systems or websites, typically with an eye-tracker. The laboratory also has a psycho-physiology section. Psycho-physiology is an area of psychology that measures an individual's physiological responses to indicate his/her psychological state. When used in combination with an eye-tracker, a deeper understanding of the user experience is possible.
Tshibode Biomechanics Lab
This Lab is based at the University of South Africa, School of Engineering, Department of Mechanical and Industrial Engineering. The Lab is equipped with sophisticated equipment including newly developed biaxial machine and cellculture.
Aim Of The Research Group
To be the best in the development of understanding in medical materials to prevent and cure human diseases.
The primary aim of Biomechanics Research Lab is to understand the material behaviour of tissues in solving health challenges and various diseases
About Biomechanics
Our research investigations includes theoretical and experimental work that are aimed at understanding various mechanisms of medical conditions. Research projects are designed to achieve scientific insights to better prevent human diseases and better under the healing processes and the mechanisms medical conditions. The nature of this research requires a multidisciplinary approach research including medical specialists, biologists, material engineers and scientists etc. Biomechanics is the study of biological systems through mechanical principles. Biomechanics is closely related to engineering, because it often uses traditional engineering sciences to analyze biological systems.
Research Areas
This conducts computational and experimental research in mechanobiology with various applications:
Experimental characterisation of soft biological tissues and biomaterials
Hard tissue mechanics
Mechanobiology of eye diseases
Soft tissue mechanics and mechanobiology
Cellular and viral mechanobiology in physiology and disease
Mechanobiology of cardiovascular diseases and therapies
Soft tissue regeneration
Themes
| | |
| --- | --- |
| Theme A | |
| Theme B | Theme B |
| Theme C | |
Current Collaborators with the Unisa Biomechanics Research Lab include
Professor Erik Hohmann, German Board Orthopaedic and Trauma Surgery, Sports Medicine, Consultant Orthopaedic Surgeon, Sports Physician, Associate Medical Director Surgical Services, Valiant Clinic/Houston Methodist Group, Professor of Orthopaedic Surgery, University of Queensland, School of Medicine, Extraordinary Professor, University of Pretoria, School of Medicine, Editor Journal of Arthroscopy, The University of Michigan Medical School
Natalie Keough , University of Pretoria, Department of Physilogy
Malebogo Ngoepe, University of Cape Town, Department of Mechanical Engineering
Prof NP Khumalo (SARChI Chair in Dermatology and toxicology) - Hair and Skin Research Labratory (HSR) Lab, Department of Medicine
List of Lab Equipment
| | |
| --- | --- |
| | PRODUCT DESCRIPTION |
| 1 | Biomaterial biaxial testing machine (BT 50 mm) |
| 2 | A micro-scale tension/compression test system |
| 3 | Mechano-Culture B1 (MCB1-200) |
| 4 | Versatile uniaxial bench top mechanical tester |
| 5 | In Vitro-indentation of bone to determine mechanical properties |
| 6 | Tensile Testing of Hair |
| 7 | Dental static and fatigue testing system |
| 8 | Static, Dynamic and Fatigue Test system for Orthopaedic |
Lab Equipments
School Of Engineering
Chemical and Civil engineering laboratories
Chemical and Civil Engineering laboratories are housed at Unisa Science Campus, Florida in Eureka and Euclid building respectively. Civil engineering infrastructure is capacitated with high-end workshop-scale instrumentation used for practical sessions and research. Chemical Engineering laboratories comprise of ten (10) laboratories capacitated with state-of-the-art pilot-scale equipment that is enabling academics to conduct research on new materials and processes in close collaborations with industry, small and medium-size enterprises, and regulatory agencies. In addition, researchers can now conduct studies in the following areas:
Fuel cells (renewable energy)
Catalysis (energy and environmental)
Nanotechnology (energy and water)
Corrosion
Mineral processing
Water treatment and environmental engineering
Mechanical and Industrial engineering laboratories
Mechanical and industrial engineering laboratories are housed in the Euclid building at Unisa Science Campus, Florida and are comprised of two (2) workshop-scale facilities adjacent to each other. These are capacitated with state-of-the-art instrumentation which has allowed academics to conduct research in several fields. This infrastructure is capacitated with high-end pilot-scale equipment that is enabling researchers to conduct studies in the following areas:
Operations and quality management
Alternative and renewable energy
Biomechanics and bio-mimicry
Entrepreneurship
Lean manufacturing techniques and philosophy
Electrical and Mining engineering laboratories
Electrical and Mining engineering laboratories are housed in the Euclid building at Unisa Science Campus, Florida and are capacitated with state-of-the-art instrumentation which has allowed academics to conduct research in several fields. This infrastructure is capacitated with high-end pilot-scale equipment that is enabling researchers to conduct studies in the following areas:
Intelligent systems
Alternative energy; CMOS Optoelectronics
Mechatronic control and Chaos
Telecommunications, Micro-electronics, Network modelling, simulation, network protocols, OPNET
Mineral processing: comminution (milling and crushing), particle size analysis etc.
Modelling and simulation of minerals engineering processes; metallurgical accounting, process controls in minerals etc.
Open pit mining: Rock mechanics, open pit mine planning, mine sequencing
School Of Science
Physics laboratories
Physics laboratories are housed in the Eureka building at Unisa Science Campus, Florida and are capacitated with state-of-the-art instrumentation which has allowed academics to conduct research in several fields. The equipment includes:
XRD, which apart from compound identification, can also be utilized to determine crystallographic structure, and grain size of crystalline material.
XPS, is a surface-sensitive quantitative spectroscopic technique that is used to determine the elemental composition, chemical state and electronic state of the elements that exist within a material.
High-resolution scanning electron microscopy (HRSEM) that allows for direct imaging of sample and can be used to study properties of materials such as semiconductors, metals, and nanoparticles.
Ellipsometer – an optical technique used to measure the dielectric properties (complex refractive index or dielectric function) of thin films.
EPR (Electron paramagnetic resonance) – a sensitive, specific method for studying materials with unpaired electrons.
The PPMS – an automated low-temperature and magnet system used to study material properties like specific heat, magnetic AC and DC susceptibility and both electrical and thermal transport properties (like Hall Effect, thermoelectric figure of merit and Seebeck Effect)
Research is conducted in the following research areas:
Semiconductor Physics
Nanotechnology
Solar energy
Biomaterials
Superconductivity
Novel magnetism
Sensors
Emerging materials

Chemistry laboratories
Chemistry occupies three floors in the Eureka building at Unisa Science Campus, Florida. The Chemistry laboratories are equipped with state-of-the-art instruments which supports undergraduate student practical classes and research in several fields. The equipment includes:
NMR (Agilent Propulse 500Mhz NMR) used to study structures in both Chemistry (small molecules) and biology (large molecules). NMR is used to characterize extracts from natural products with medicinal properties, polymers and nanostructured material synthesized in house.
DSC (differential scanning calorimeter), a thermo-analytical technique used to observe the fusion, crystallization temperature and glass transition temperatures (i.e. phase diagrams) events in a material. It can also be utilized to study the thermodynamic (i.e. gibbs free energy) between protein-ligand interactions.
In the analytical laboratory, GC/MS, LC-Orbitrap MS, as well as GC x GC HRT Pegasus systems are available for target, suspected-target and non-target screening measurements. These are applied for characterization and identification of molecules in various types of matrices.
ICP OES and AAS for the for the analysis of metals and various sample matrices.
Research is conducted in the following research areas:
Organic chemistry
Inorganic chemistry
Physical chemistry
Polymer chemistry
Analytical chemistry