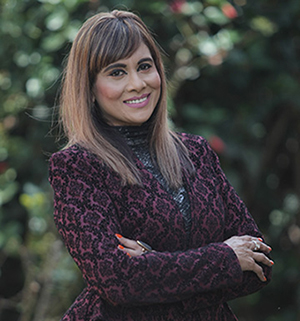 Shamila Ramjawan has been recognised as a great humanitarian for her efforts to promote menstrual health and hygiene. "With this honorary doctorate, there is so much to be grateful for. One needs dedication and determination to be recognised for such an award. That is why I am so honoured and truly humbled," says Ramjawan, lecturer in the Department of Business Management at Unisa.
Receiving this honorary doctorate, Ramjawan explains, from the Global International Alliance (GIA) for all my humanitarian work across the globe is heart-warming. GIA is an organisation that works with the United Nations Entity for Gender and the qualifications are processed by Stanford International University in Stanford, California.
"This award," she continues, "means a lot to me as it reiterates contributions I have made for women and girl children. It's a lifetime achievement emphasising the appreciation shown by people from across the globe for my contribution to humanity."
Ramjawan adds that the honorary doctorate will provide a networking platform for her to grow internationally. She says it will also help her partner with organisations that are instrumental in her philanthropic and humanitarian work. "We are here to serve our communities through our initiatives."
In 2016, Ramjawan launched PrincessD Menstrual Cup which is cost-effective, eco-friendly and hygienic. Currently the product is available in over 20 countries, pharmacies, and health and wellness centres, and is prescribed by many doctors due to its health benefits. She has changed the lives of thousands of schoolgirls with her "keeping girls in school" project. PrincessD Menstrual Cups are funded by corporates and to date have been donated to schoolgirls in over 220 schools in South Africa.
"I believe that this is so needed in society because girls and women are overlooked when it comes to menstruation," says Ramjawan, who possesses an MBA degree from the Unisa Graduate School of Business Leadership (SBL) and is now a MANCOSA doctoral candidate, researching menstrual hygiene management. Having worked with communities for decades, she says, "I have realised that there was a need to research the menstrual cup because impoverished girls miss school for five to seven days a month during menstruation."
"My study title is Improvement of menstrual hygiene management (MHM) for intellectually disabled adolescents in South Africa. This topic is very close to my heart and will be the first in Africa. I am looking forward to completion in 2021."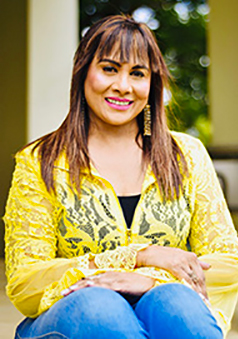 As a young widow raising two children and taking many business risks, her journey has been one of consistently breaking barriers. She uses her inspiring life story to help individuals to unleash their true potential.
Among her various awards and initiatives, Ramjawan is also a "Play Your Part" Ambassador for Brand South Africa and has two registered companies, Famram Solutions (marketing and communications solutions) and the Famram Foundation, which seeks to empower and uplift in providing CSI solutions to enhance socio-economic development. "This foundation is in memory of my late husband who was called to rest in 1998, and it is fully funded by myself and my children," she says.
She adds: "Because of my philanthropic work across the globe, I was also the only South African that was chosen to represent our country on the African continent by Women in Africa (WIA)."
Moreover, she has a new chat show called Red Corner Chat - where she empowers people to share their journeys and stories. The project was launched this year on Women's Day. She says: "To date, I have interviewed over 60 men and women from different countries. The chats are available on Facebook and YouTube."
There's definitely nothing stopping this Unisan from making further impact on her country and globally to give women and young girls the right to dignity.
* By Lesego Ravhudzulo, Journalist, Department of Institutional Advancement