A division for gender equality will be established in the Office of the Principal and Vice-Chancellor (VC) of Unisa, Prof Mandla Makhanya announced at the second OK Matsepe public lecture in Polokwane.
In an effort to combat gender-based violence (GBV), the division will undertake research, policy advocacy, interventions to protect victims and counselling, and will work closely with the Commission for Gender Equality.
The VC referred to the shooting of a rape victim, the 22-year-old Kutlwano Masilo, and said hers was one of many stories of women who suffer at the hands of men.
"This reversal and assault on the gains of our freedom is an ugly dent on the face of what should be a beautiful country. The condition of women in this country, and the feeling that one experiences when reading, listening and reflecting about this scourge can produce the kind of pessimism that Matsepe felt against the corruption of morality that he observed even at that time."
"We are sad witnesses to the breakdown of whatever was left of the fibre of morality and ubuntu that we pride ourselves on as a people. How can we talk about our philosophy of ubuntu when our mothers, sisters, and girl children cannot be safe, do not feel safe, and live with fear?" he asked the audience.
"We should not tire from fighting for the re-humanisation of our society. We should rise against any form of oppression, exploitation, prejudice, and bigotry," he urged.
The second OK Matsepe lecture, Living, breathing, and practising humanity, dignity, and respect by standing against gender-based violence: Celebrating 88 years of OK Matsepe legacy, was delivered by global trailblazer Prof Malegapuru Makgoba, South Africa's Health Ombud, on 13 March 2020. Makgoba said that Matsepe struggled with how to solve GBV as a problem. "But, nevertheless, he felt that it could only be solved if men recognised to respect each other in a dignified fashion but that was not easy because of the unpredictability and dynamics of mankind," the Health Ombud concluded.
You can watch the event below:







A complex writer shaping time and space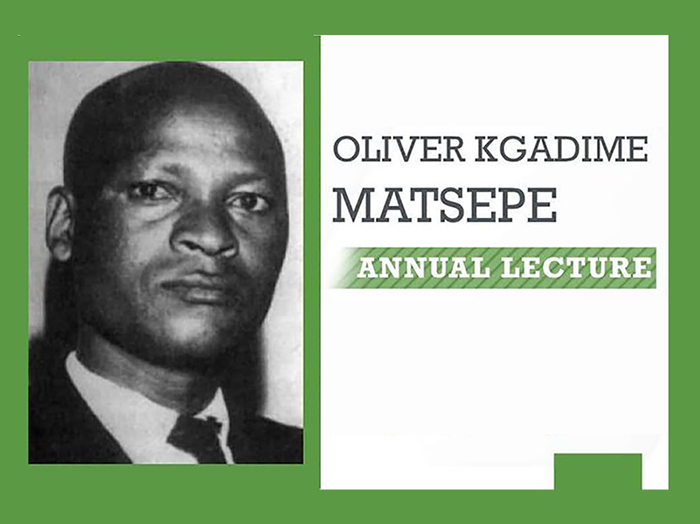 Novelist and poet Oliver Kgadime "OK" Matsepe was born in Magagamatala in the Groblersdal district on 22 March 1932. A complex writer, he wrote nine novels and six volumes of poetry. According to the New Dictionary of South African Biography, his works "give the reader an insight into religious, traditional, national, and social situations, and at the same time preserved the social and cultural heritage of the people. These works had a profound impact on later writers...".
He was twice awarded the SE Mqhayi Prize by the Suid-Afrikaanse Akademie vir Wetenskap en Kuns (South African Academy for Science and Art). In 1964, he received it for Kgorong ya mošate (At the king's court), which is sometimes called the first full-length novel in Sesotho sa Leboa, and in 1973 for Megokgo ya bjoko (Tears of the brain). Other works include Kgati ya moditi, Todi ya dinose, Letsofalela, and Tsaka ya Mafuri.
He died on 4 October 1974.
The public lecture forms part of a partnership, in the form of a memorandum of agreement, between Unisa and the Limpopo Provincial Government and Administration, which was signed and launched in May 2018. Both parties agreed to collaborate on matters pertaining to sharing information, research and capacity building.
The inaugural lecture of the series, Towards the changing of the mind-set of the African section of the Rainbow Nation of the RSA, was delivered on 19 March 2019, on what would have been Matsepe's 87th birthday, by Majelele Serudu, Professor Emeritus in Northern Sotho Literature at Unisa, an expert on the work of the writer.
Serudu points out that the main concern of Matsepe in his literary works was common humanity on and around traditional court life, from there rippling outward to civilian life, and from there returning to court life with greater intensity.
"There is not a single novel of Matsepe whose plot ends in disharmony, even though wars may have raged during the course of the narration. The reason is not far to seek," Serudu concludes. "Go botse bjang ge bana ba motho ba dutše gammogo gomme ba ratana." (How good it is to have brothers and sisters living together in love.)
The lecture is an annual event.
* By Ilze Crous, Communication and Marketing Specialist, College of Economic and Management Sciences & Sharon Farrell, Editor, Department of Institutional Advancement