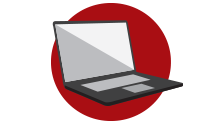 It may take a little time before you receive confirmation of your registration. While you're waiting, it's a good idea to start preparing for your studies.
Once you've received confirmation of your registration, you need to register on myUnisa, the university's online student portal where you can download your study material, including your tutorial letters.
Please note: All communication sent to you after the initial study package (with the exception of study guides) will be sent electronically to your myLife e-mail account (eg follow-up tutorial letters, examination timetables and results, financial statements). You will no longer receive such communication in printed format.
Preparing for your studies

Create a study space
Creating your study space is a good place to start, somewhere in your home that's quiet, that's your own, where you won't be disturbed. It should have good natural light and be well lit at night too.

Schedule your time
Get yourself a year planner, identify the times you're not working at your job (if you have one). Mark the events (social and otherwise) that you know you'll have to attend. Mark your family time, the time for all your other obligations and the time you need for yourself. In this way, you'll start to identify your ideal study times, and the instances where, perhaps, you need to sacrifice a little social time to get in those extra study hours. Remember: semester modules require between 6 and 8 hours per week, and year modules between 4 and 6 hours per week.

Start building a support community
Building a support community is one of the most important requirements for any Unisa student. It's a network of people who can help you on your journey. Talk to your family, talk to friends, let them know what to expect. Having the understanding of the people in your life means having their support too. If you're working in your field of study, then the workplace will be a great source of support. People with experience in your field are invaluable. Talk to your colleagues and your employer. This will also help when you need to take time off for exams, for instance.
Find a mentor, someone you know and trust, who can advise you through the course of your studies. Ideally, he or she should have studied too, they should understand the challenges; they should know you and your situation well enough to resolve conflicts when they arise; and importantly, they should be someone you trust.

Register on myUnisa
Once you've received confirmation of your registration, register on myUnisa, the university's online student portal. Then you won't need to wait for your study material to be sent to you. You'll be able to download everything, including your tutorial letters, from myUnisa. Registering on myUnisa is one of the first things you need to do once you have your student number.

Activate myLife e-mail account
The university provides all registered students with a free myLife e-mail address. It is your responsibility to activate your myLife e-mail account as soon as your registration has been finalised. Your myLife e-mail account will be the only e-mail account recognised by Unisa for official correspondence to and from the university, and will remain the official primary e-mail address on record at Unisa.
All official communication from Unisa will be sent to your myLife e-mail account. Other additional communication channels may be used from time-to-time, but the university will communicate with you primarily via your myLife e-mail account.