Unisa, in collaboration with the Public Service Commission, hosted the annual International Anti-Corruption Day event on 9 December 2019 under the theme "United against Corruption: Building a Culture of Accountability for Sustainable Development".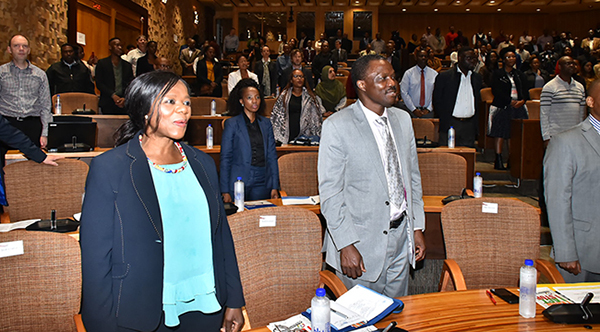 During his keynote address, the Minister for Public Service and Administration, Mr Senzo Mchunu, said the observance of International Anti-Corruption Day (IACD) is happening at an appropriate time in our country. "We are recommitting ourselves to fighting corruption, which is fast becoming one of the impediments to our march towards consolidating and basking in the glory brought about by democracy in 1994," he said. "I strongly believe that corruption is a major obstacle to democracy as it depletes social wealth and results in environmental degradation."
Highlighting the importance of the 16 Days of No Violence against Women and Children campaign, the minister said the country is not doing well in ensuring that women and children are safe. "As government we are issuing a stern warning and have demonstrated our resolve to punishing this abhorrent behaviour of ill-treating the vulnerable," he said.
Delivering her opening and welcome address, Dr Marcia Socikwa, Unisa Vice-Principal: Operations and Facilities, said the poorest of the poor are now being denied service delivery as a result of losses incurred by municipalities. "Many poor people also lost millions of their savings through VBS," she said, "and the get-rich-at-all-cost mentality has also spread to universities. Since 2011, independent assessors have been appointed for several universities as a result of poor institutional governance and management, with corruption identified as one of the contributing factors."
Socikwa said that it was incumbent upon institutions of higher learning to rebuild the youth. "We need to find a way to convince our young people to promote a culture of good values," she concluded.

Impact of corruption on service delivery
"We should first meet people's needs before we mobilise civil society to fight corruption," said Prof Thuli Madonsela, former Public Protector and University of Stellenbosch Law Faculty Trust Chair. Referring to the application of Maslow's Hierarchy of Needs and the importance of understanding poverty, Madonsela said, "Hungry ears cannot hear".
In conclusion Madonsela said that people can only participate in the social economy if they feel part of it.

How corruption impacts the lives of ordinary people
Speaking on behalf of the United Nations, Mrs Nardos Bekele-Thomas said they intend to call the South African government to decisive action against corrupt practices to achieve the sustainable goals, especially with regard to poverty and corruption. "We need to build strong institutions to foster resilience and strong societies to advocate peace and justice," she said.
She emphasised that all forms of corrupt practice must be viewed in a serious light and should be dealt with in the same measure.
Father Smangaliso Mkhatshwa from the Moral Regeneration Movement focused on living positive values. He said that it is important for the country to do a proper analysis of why poor people are victims of corruption. "We lack ethical leadership and one of our biggest challenges lies in the fact that people in positions of power and influence are the ones who control resources and they are not always ethical leaders."
The event saw delegates sign an anti-corruption pledge and participate in a civil society picket at the venue. Minister Mchunu presented Advocate Shamila Batohi, National Director of Public Prosecutions, with an ethics clearance certificate for being one of the first to agree to a lifestyle audit.


* By Lesego Ravhudzulo, Journalist, Institutional Advancement Department