The Unisa Library and Information Services celebrated International Open Access Week (25 - 31 October 2021) through a webinar on 26 October, focusing on the opportunities and challenges facing the library and information science sector relating to open educational resources, open science and other issues related to open access.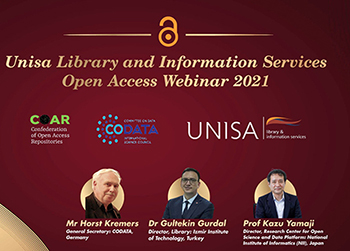 In her opening and welcome address, Library and Information Services Executive Director, Dr Daisy Selematsela, provided an overview of Unisa's successes and priorities to accelerate open science processes. She highlighted challenges in advancing open research, which include lobbying governments, raising awareness of the value of data as well as access to resources and skills, among others. The programme boasted three international keynote addresses from international open-access experts.
The first keynote address was delivered by the General Secretary of the Committee on Data of the International Science Council (CODATA) Germany, Mr Horst Kremers. His presentation entitled "FAIR Principles in the UN Instruments Information Management" explored questions such as how information and knowledge practitioners can be best supported within global open-access practices in order to be equipped in their roles as knowledge disseminators.
Dr Gultekin Gurdal from the Izmir Institute of Technology, Turkey, addressed the webinar on "The story of Open Access in Turkey", which highlighted the challenges and successes of the growing repositories of that country, as well as how to further engage researchers.
Prof Kazu Yamaji joined the webinar from the National Institute of Informatics in Japan to speak about Japan's cloud services for institutional repositories.
From the Unisa Library, Makaba Macanda demonstrated the Unisa Research Data Repository workflow.
The webinar was attended by a large international audience from countries such as Zimbabwe, Nigeria, Singapore, Japan, Turkey, Germany, Australia, the UK and the USA, among others. The webinar served as a benchmarking platform for librarians, knowledge specialists and managers who shared comments on their countries' and institutions' practices and policies.
Open Access Week is a global event (in its 13th year) and presents an opportunity for the academic and research community to continue to learn about the potential benefits of open access, to share what they have learnt with colleagues, and to inspire wider participation in helping to make open access a new norm in scholarship and research.
Selematsela reminded colleagues and guests to engage with and align their efforts with the goals of open access, which are to maximise research investments, increase the exposure and use of published research, facilitate the ability to conduct research across available literature, and enhance the overall advancement of scholarship.
* By Natalia Molebatsi, Marketing Coordinator, Unisa Library