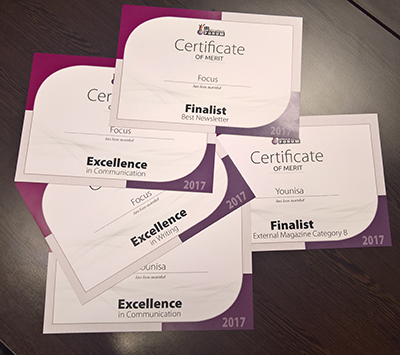 Among the top ten percent of all corporate magazines published in South Africa! Unisa's two entries—Focus and YOUNISA—were both finalists last month in the 2017 Corporate Publication Competition organised by the SA Publication Forum (SAPF). These prestigious awards honour printed and electronic communications that demonstrate superior writing, editing, communication, and design.
In addition, both publications received certificates of merit for excellence in communication, with Focus scoring a further award for excellence in writing. The judges and moderators are all experts in the corporate communication field.
"We are thrilled to have been selected as finalists this year in two strongly contested categories," says Nancy-Anne Anderson, managing editor in the Department of Institutional Advancement. "The competition not only gives us an opportunity to review other publications that may help us benchmark our own work, but it also allows the Unisa brand to shine amongst its competitors, both in the higher education sphere and in industry."
Unisa competed against more than 150 other entrants, from other universities and government departments to corporates, one-man-shows, and agencies.
Each bi-monthly issue of Focus brings Unisans a wealth of information about the university and celebrates the brand, in tandem with digital media such as a weekly electronic newsletter and a dynamic website that is updated daily.
YOUNISA was launched last year to replace the former student and alumni/stakeholder publications, Inspired and Unisawise.
What the judges had to say
"This publication makes for interesting reading even for people who are not part of the Unisa community."~Focus
"Good move to merge the two magazines. Articles are well-chosen, inform, and inspire."~YOUNISA
*By Sharon Farrell