The Department of Risk and Compliance is ecstatic to announce that Unisa has scooped the Industry Specific Award–Education Initiative from the Institute of Risk Management South Africa (IRMSA) for the third time.
IRMSA aims to acknowledge and celebrate excellence displayed by individuals and organisations in the risk management industry and to recognise those that have significantly influenced the risk profession. The IRMSA Annual Gala Dinner and Awards Ceremony recognises and rewards Southern Africa's top risk management professionals and organisations who have made a significant contribution, as well as the best risk management initiatives within different industries.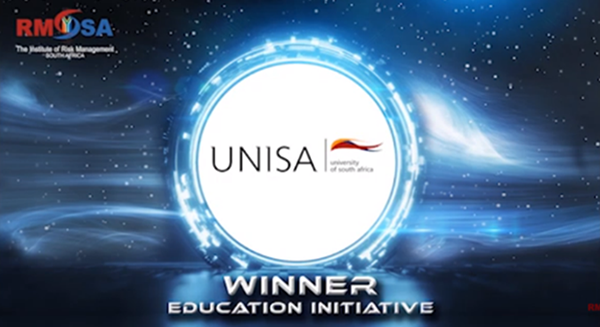 The university received the award for the Unisa Strategic Risk Leadership Conversations on Higher Education (SRLC-HE) event, which took place in December 2019, organised by the Department of Risk and Compliance. The theme of the event was Disruptions at the base of the pyramid—(therein) unfolds a paradox. The aim was to deepen the risk culture and strengthen the governance texture within organisations. The discussions also looked at what it takes to disrupt the status quo whilst seizing emerging innovative opportunities, such as how to contribute towards strategic resilience for individuals, organisations, our country, and the continent of Africa.
Watch the Industry Specific Award Winner—Education Initiative: Unisa IRMSA media room interview below: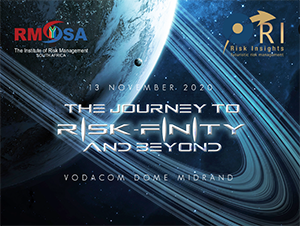 The IRMSA Annual Industry Award ceremony was streamed live on 13 November 2020 because of Covid-19 regulations and themed On the journey to Risk-Finity and beyond.
The Institute of Risk Management South Africa (IRMSA), with members from a wide range of organisations in the private and public sector, is a non-profit organisation consisting of individuals and companies committed to the enhancement of risk management. IRMSA has been recognised by the South African Qualifications Authority (SAQA) as the professional body for risk management in South Africa, and is the institute of choice for risk professionals and practitioners in Southern Africa. It is dedicated to the advancement of the risk management profession through research, promotion, education, upliftment, training, guidance and accreditation and has strong relationships with similar institutes and associations internationally.
In appreciation, the Department of Risk and Compliance would like to acknowledge that this event and the award would not have been possible without our sponsors, viz. Ngubane & Co, SafeCyberLife, University of Johannesburg.
"Take up one idea. Make that one idea your life—think of it, dream of it, live on that idea. Let the brain, muscles, nerves, every part of your body, be full of that idea, and just leave every other idea alone. This is the way to success."
—Swami Vivekananda
*Submitted by Tshegofatso Modiba, Enterprise Risk Management, Department of Risk and Compliance