The Youth Research Unit (YRU) of Unisa's Bureau of Market Research (BMR) presented its fourth National Youth Research Conference from 20 to 21 September at the university. Based on the distressing incidence of sexual exploitation of children worldwide, the 2018 Youth Research Conference focused on issues related to the online and offline sexual exploitation of children in South Africa.
Since the first National Youth Research Conference in 2012, the conference has addressed controversial issues affecting the wellbeing of children and drawn large numbers of delegates. This year, more than 300 national and international delegates attended the conference.
Attendees experienced presentations by more than 20 national and international presenters, panel discussions, testimonies of survivors, and exhibitions. The professional speakers who shared their insights and perspectives at the conference reiterated that worldwide action and collaboration is needed to build a safer world where all children can benefit.
The national and international attendance and support of the conference reiterated the relevance of the research and community engagement initiatives conducted by the Youth Research Unit of the Bureau of Market Research.
Among the delegates were several high-level dignitaries who participated in the conference proceedings. Professor Thenjiwe Meyiwa, Vice-Principal of Research, Postgraduate Studies, Innovation, and Commercialisation at Unisa, delivered the welcoming address.
Professor Mahri Irvine from the Women's, Gender and Sexuality Studies Programme at the American University in the US delivered the keynote address, titled Men's sexual exploitation of children: The importance of research, accurate language and building alliances.
A highlight of the conference was the special award presented by Unisa Principal and Vice-Chancellor, Professor Mandla Makhanya, in which YRU gave recognition to Durban businessperson and philanthropist Vivian Reddy, the Executive Chairman of Edison Corporation, for his ongoing commitment to the upliftment and well-being of children in South Africa. Besides being an entrepreneur extraordinaire, Reddy is a patron to more than 20 organisations reaching out and supporting children and young people.
The National Youth Research Conference does not only recognise extraordinary South Africans, it also provides a platform for sharing the latest research information, knowledge, and networking opportunities.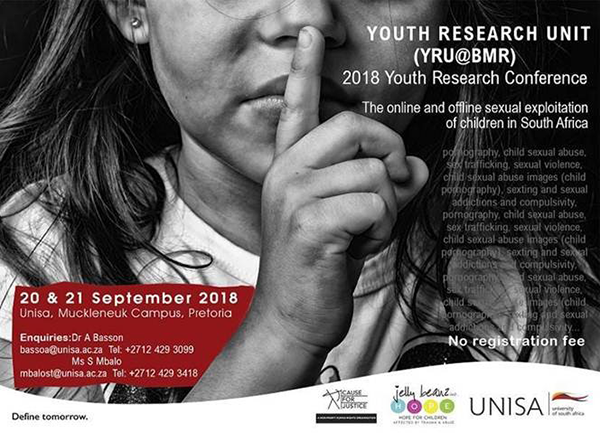 *By Madeleine Goetz