On Friday 19 July 2019, eight young classical pianists performed during the first day of the 6th Unisa National Piano Competition in Unisa's ZK Matthews Great Hall, showcasing their mastery of baroque music as well as impressing the jury with virtuosic pieces.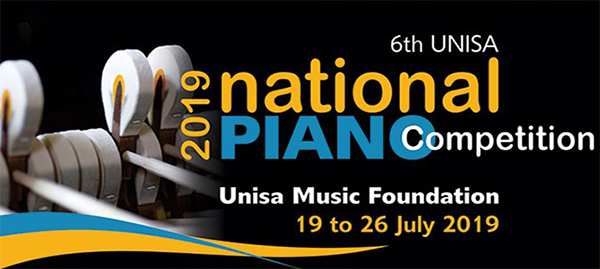 The first round continued at 14:00 on 20 July 2019 with the Jazz Category.
On Sunday 21 July at 11:00, Round 2 continued for the classical pianists, giving the competitors another chance to impress the jury before the first elimination takes place. The semi-finalists in the Classical Category of the Unisa National Piano Competition were announced on Sunday evening,
They are André Breet (24), Willem de Beer (27), Lourens Fick (28), Sulayman Human (26), Jolandi Schaap (20) and Lezanti van Sittert (23).
The candidates had to perform two programmes totalling almost an hour of memorised piano literature to date. The semi-final round in the Classical Category takes place on Tuesday 21 July. There will be two sessions: 10:30 and 14:00. Tickets cost R90 per day and will be sold at the door.
During this demanding round, each candidate must perform a recital of 45 to 55 minutes. Sulayman and Lourens will perform during the morning session. Four candidates will perform during the afternoon session: Jolandi, Lezanti, Willem and André.
The panel of adjudicators consists of some of South Africa's most respected pianists and pedagogues: Catherine Foxcroft, Megan-Geoffrey Prins, Ben Schoeman, Nina Schumann and Elna van der Merwe. They will choose two finalists who will each perform a concerto with the Johannesburg Festival Orchestra conducted by Richard Cock.
A Jazz Category is running alongside the Classical Category, with a separate panel of adjudicators. The semi-final round in the Jazz Category is taking place on Wednesday 24 July at 14:00. Two finalists in the Jazz Category will be chosen to perform in a trio with bass and drums on Friday 26 July, followed by the two concertos after interval.
Tickets for the final round are sold at Computicket.
The performance schedule will be uploaded on the Unisa Music Foundation's website in due course: www.unisa.ac.za/musicfoundation.
* Submitted by Alet Venter, Music Events Administrator, Unisa Music Foundation