On 7 May 2018, the Department of Political Sciences in the College of Human Sciences hosted a delegation of 34 election observers from the Electoral Advisory Council (SEAC) of the Southern African Development Community (SADC).
The aim of the one-day seminar was to share Unisa's election observation experiences of South Africa's 2014 and other recent elections in Africa with the SADC election observer trainees. The seminar also aimed to share knowledge and expertise with the SADC-SEAC election observer trainees, to learn from election management best practices from the observers, whilst tapping into Unisa's ongoing research and academic insight on the role of elections in Africa's democracy.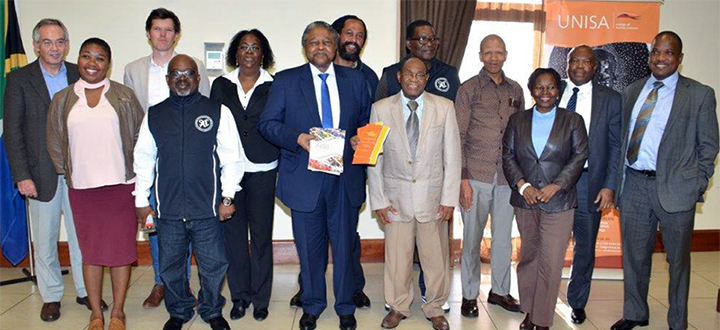 Opening the event was Prof Everisto Benyera, Acting Chair of the Department of Political Science. He emphasised the importance of credible, free democratic elections in Africa especially the role of election observers in inculcating a culture of meticulous verification in Africa's elections. He further stated that Unisa was committed to Africa through its research and teaching and learning and thanked SADC-SEAC for honouring Unisa in this partnership.
Dr Kondwani Chirambo from the SEAC office in Gaborone, Botswana, explained the role of the 15-member body and the aims of their two-week training of observers from the SADC sub-region. He stated that SADC, which has been observing regional elections for two decades, now sought to professionalise and standardise election observation given recent changes in election management. These changes include diversifying the role of election observers to benefit from the use of technology and to include women, academics, youth, and the broader civil society organisations in SADC election Observer Missions. Further, SADC and SEAC also wanted to collaborate with academia in elections observation. On behalf of the delegation, he thanked the Department of Political Sciences for the opportunity to share knowledge on election observations.
Professor Kealeboga Maphunye, Lefatshe Moagi and Jean-Jacques Boshoff of the Department of Political Sciences shared their experiences on Unisa's 2014 Election Observation. Reflecting on his experiences of election observer missions in Africa, Maphunye challenged the election observer trainees to take election observation seriously. This also meant revisiting past election observer reports to ensure that recommendations from those reports were addressed to help to safeguard the integrity of future observer missions.
Moagi presented a gender perspective of election observer missions based on Unisa's 2014 experiences and emphasised the importance of gender, especially young people, in observer missions. She added that women should have the same opportunities as men and that gender should be an integral part of an election observer mission's planning and execution. Boshoff outlined the technical aspects of the 2014 Observer Mission and sensitised the SADC trainee observers to the need for keeping the control or "command centre" updated about any incidents or suspicious activities on the ground to enable accurate reporting.
Advocate Sipho Mantula from the Institute for Dispute Resolution in Africa challenged observer missions to include academics and civil society participants and urged SADC and SEAC to sign memoranda of understanding to consolidate relations. He shared his experiences of election observer missions in Kenya, Zimbabwe, the DRC, Madagascar and others, adding that observers coming from civil society also contribute tremendously to observer missions; but only if they are given an opportunity to participate. Yet, some countries in Africa did not trust election observers and actually sought to ban them following public sentiments in those countries that they are biased.
In his closing remarks, Advocate Leshele Thoahlane, Chairperson of SEAC, thanked Unisa for the opportunity to engage with members of the university community with interest in elections. He promised to work with Unisa and other academics to enhance the election observation processes in the sub-region. However, some of the challenges included follow ups by the SADC Secretariat, SEAC or the Heads of States forum of the 15-member SADC countries as they usually entailed several collaborations and negotiations between these entities on specific actions to be taken on regional elections. The impact of Unisa's role in elections, he argued, must not benefit a "circle of electoral elites" but also the entire sub-region, adding that SADC now planned to have only long-term observers to optimise the use of available resources.
Prof Dirk Kotzé, also of the Department of Political Sciences, thanked SADC and SEAC for their visit and agreed that further engagements of this nature were necessary and would benefit elections observation, which remains critical towards ensuring that election results are deemed to be free and fair whenever they are announced. Such elections must also have integrity so that the public representatives that are elected afterwards will enjoy legitimacy in their respective countries.
*Submitted by Kealeboga Maphunye