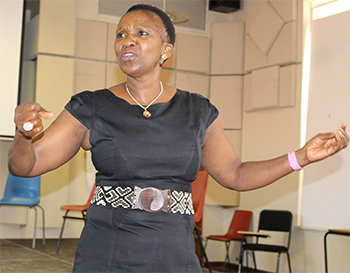 Professor Nombeko Mpako, popularly known as Nombe, has been seconded as the Director of School of Arts in the College of Humans Sciences. The associate professor of Visual Arts says she is ready to take on the director responsibilities as she speaks to us about her appointment.
Professor Mpako joined the Department of Art History, Visual Arts and Musicology in July 2009 as a senior lecturer, and in 2012 she was seconded as the Chair of Department until end of February 2018. Before joining Unisa she worked as a lecturer at Lovedale College for continuing Education and at the then Ciskei Technikon which later became the Border Technikon, and now forms part of Walter Sisulu University. At the Border Technikon she climbed the academic ladder from a senior lecturer to School Director, eventually becoming the Dean of a Faculty of Applied Technology. Prior to all this she studied at the University of Fort Hare where she obtained an Honours degree in Fine Arts and Higher Education teaching diploma. She further obtained Masters in Art and Design Education and a Doctor of Philosophy in Art Education at the University of New South Wales in Australia.
In her 29 years of experience as an academic she has lectured creative arts programmes at undergraduate and supervised/promoted a number of postgraduate students. As an academic citizen, she has moderated undergraduate programmes and served as an external examiner of postgraduate students at various South African, continental and international universities, peer reviewed for a number of journals and conferences. Her research topics vary from African Art History and Xhosa cultural issues, curriculum development, teaching and learning methodologies as well as professional Development of schools' teachers. She has presented at conferences and published papers, both nationally and internationally, and participated in a number of exhibitions widely.
Describing herself outside of academia, she says she is a spontaneous motivational speaker, an artist who is passionate about making art through clothing. Below is more of the interview conducted:
Q: How do you feel about your appointment?
A: I feel if a job needs to be done and if it is me that must do the job then so be it.
Q: What are you looking forward to the most in this position?
A: I am looking forward to enriching my immediate colleagues as well as my experience in the leadership and management of the School, College and institution at large. I am also looking forward to improving my people's skills though engaging with all my colleagues irrespective of professional level, race and gender.
Q: What plans do you have in place and what are you hoping to achieve?
A: I plan to continue from where my predecessors in this position left, towards achieving the ultimate College and institutional goals, such as becoming the institution of the first choice through excellence and dedication to serve our society. I am hoping to achieve what is humanly possible and motivate my colleagues to play their parts as dedicated and committed citizens first of our country, and the world at large.
Q: Why is this College important for the country and continent and how can it contribute in alleviating challenges we currently face?
A: The College of Human Sciences hosts disciplines that are mostly pertinent to the well-being of a society at a grassroots level. Thus nurturing the disciplines hosted by the College towards excellence especially with the graduating students who would partly alleviate the challenges we are currently facing as a country and continentally.
Q: What motivates you daily and what philosophies do you live by?
A: Thinking that by getting out of my house I might motivate and change a person's life positively is what motivates me daily. It is the decisions we make in each and every day of our life that make us who we are to be in life. So apply your mind when taking any decision and make sure you would still be proud of such a decision should it be in a public domain.
* By Rivonia Naidu-Hoffmeester (CHS communications and marketing)