Unisan Tumelo Motaung from the College of Education is using her spare time in lockdown to catch up on friends and her reading. She tells us how she and Ngozi Chukura, from Gaborone, decided to connect over Sisters of the yam: Black women and self-recovery by bell hooks.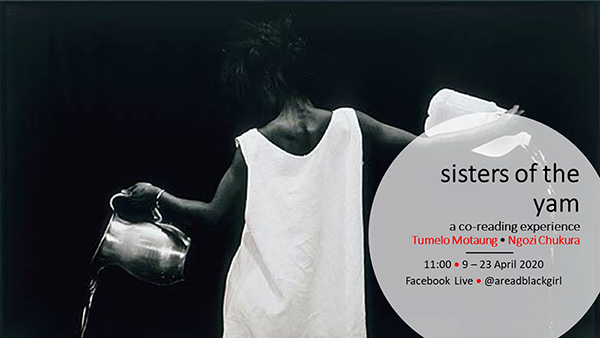 Sisters of the Yam: a co-reading experience
Engulfed in our shared experiences, Ngozi and I sit and sip at the Primi Piatti in Gaborone's central business district. We have met only once before, but the connection we share is that of mutual affection and admiration. "This makes me want to read bell hooks' Sisters of the Yam again," is my measly offer of just how full my heart is at that particular moment.
We speak again. It is the wake of Covid-19 and South Africa has just implemented a nationwide lockdown. She, in Botswana's Gaborone, is "social distancing". The conversation is hearty and warm. She calls me "sister" and instead of our "yah" she accentuates her attention with an "ee mma" every now and then. I want to bask in her presence. I want to bask in her presence, and in the same breath speak again about wanting to re-read the book.
"Let's both read the book," she offers. "I've wanted to also read it ever since you first mentioned it." And so it was decided: two women from two distinct backgrounds would share in the self-help literature of bell hooks while cooped up at home during a global pandemic. "We didn't know what we were getting ourselves into when we started," I wrote on the eve of the last session, "but here we are, fourteen days and thirteen chapters later, with an experience that supersedes words."
We planned on streaming from both ends on the A Read Black Girl Facebook Page because I had remembered Facebook having the option to invite a friends to your broadcast. I was obviously out of touch. We ended up opting to alternate days on camera, bringing the other in on voice over Facebook Messenger, and that worked out just fine - giving us each a chance to frame the discussions.

Facing the monsters let loose
I've felt a little lost in the week after the last session of the experience. I have no appointment at 11:00 that I need to get out of bed and shower for, no hour-long post-stream conversations with Ngozi and no bell hooks. "This is where the work begins," we agreed while closing the series. This would be the toughest time for us all; where we would face the monsters we had let loose in the face, in solitude.
I am better for it though, and I know Ngozi is too. We have come very far in a very short space of time; even managing to devise a call for submissions for an anthology of reflections on the reading experience. In committing to the talk, I have nourished a tender sisterhood, completed a book in fifteen days, kept myself together and managed to pinpoint a number of areas in my life that need attention. Was this not why bell hook wrote this book?
Watch the co-reading experience and decide for yourself!
Now you can join Tumelo and Ngozi on another journey of self-discovery as they read their next bell hooks book. The InstaLive introductory session will be on 7 June 2020 where they will unpack the reasons that led them to reading All about love: New visions, a book about aspects of love in modern society.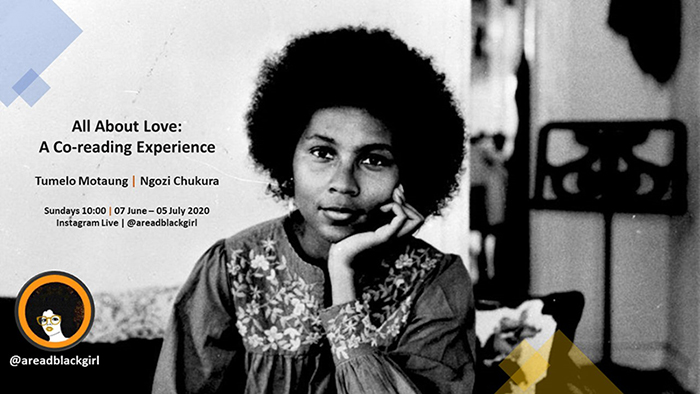 You can follow A Read Black Girl on Facebook.
* By Tumelo Motaung, Office of the UNESCO Chair on ODL, College of Education