The European Distance Education Network (EDEN), in collaboration with the International Council for Distance Education (ICDE), hosted a webinar focusing on How do we plan for education in time of a pandemic? The #onlinetogether and #Covid19 webinars are especially developed for these uncertain times to address some of the issues faced by the education sector in this time of the pandemic. To address these issues, lecturers from contact universities have to find ways of ensuring that teaching takes place even during the pandemic.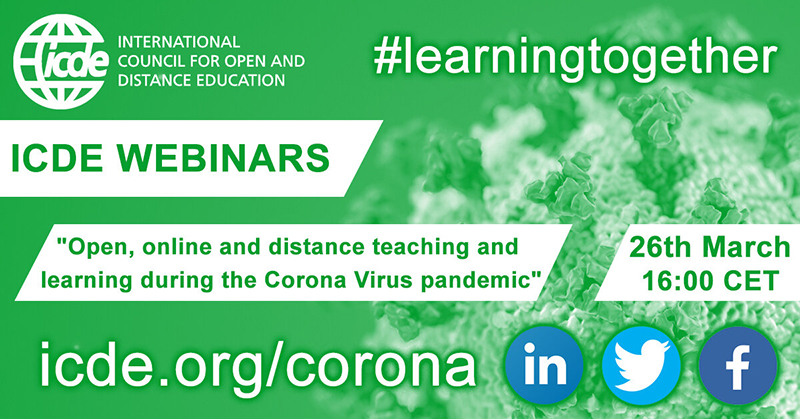 The webinar, held on 2 June 2020, was facilitated by Prof Mark Brown of the National Institute for Digital Learning at Dublin City University. Unisa's Prof Mpine Makoe, the incumbent of the Commonwealth of Learning (CoL) Chair in Open Education Resources (OER) from the College of Education was among the panellists. Other panellist members were Dr Neil Fassina, President of Athabasca University in Canada; Prof Antonio Teixeria, Head of the Department of Education and Distance Learning at the Universidad Aberta in Portugal; and Dr Sandra Kucina Softic, President of Eden and eLearning Director at the University of Zagreb in Croatia.
As an ICDE and OER ambassador, as well as a member of the University Futures Network and CoL chair in OER, Makoe was invited specifically to discuss how higher education in the South African context is planning for the future. Since the lockdown, she has developed two policy briefs - one on Dual Mode universities and the other on the ODL SADC response to Covid-19. The aim of the policy briefs is to advocate for the urgent development of appropriate policies and strategies for distance and online teaching and learning, and to guide the adoption and implementation of open, distance and online learning policies, models and systems for teaching and learning during and after the Covid-19 pandemic.
Makoe elaborates that the provision of education and training to learners under the Covid-19 lockdown is a global challenge. "Reaching out to students and ensuring that learning continues has become a national priority in many countries. In the interim, distance and online learning programmes have been put in place to ensure that disruptions to learning are minimised. However, many students from underserved, marginalised and poverty-stricken communities do not have access to the digital devices that are required for remote online learning. It is important that solutions for developing countries should ensure that no student is left behind."
Covid-19 disrupted the way we live, interact with each other and learn from each other. Many in higher education institutions are struggling to adjust to this new type of working and teaching online. This problem is further exacerbated for those who have never taught distance students. Makoe explains that distance and online modes of delivery require heavy investment in ICT infrastructure, digital capacity, and learners and teachers' capabilities to engage in teaching, learning and assessment practices.
"While we are responding to the immediate needs of addressing the challenges of Covid-19, it will also be helpful to learn from the crisis and plan for the future we want. The recovery period should focus on preparing, investing and reinforcing systems as a way of moving forward, while the sustainability period should ensure that measures are in place to ensure sustained continuity of learning. Amidst the Covid-19 pandemic, this intervention must also be recognised in the context of achieving learning for sustainable development, with emphasis toward sustainable development goal 4 (SDG) and African Union's (AU) Agenda 2063: The Africa we want."
* By Nancy Legodi, Acting Journalist, Department of Institutional Advancement.