Musa Masombuka is a 22-year-old poet, literature enthusiast and a third-year Unisa student enrolled for a Bachelor of Education degree. His preferred genre is poetry, but he can also write short stories.

His short story, The initiation, written in 2017, was recorded as a podcast in Somerset, UK, by the Celebrate Southern Africa radio. The story was on the Honours list of the South African Writers College Annual Short Story competition 2017.
He became part of the Unisa family in 2017 because he had always wanted an institution of learning where he was able to study at his own pace and time, while able to accomplish other commitments or projects "... and Unisa became the answer to that. It was by word of mouth from my former high school educators and friends who recommended it," he says.
Masombuka says that being a student of Unisa has built and developed him into being disciplined and in control of his future. "The institution has taught me time-management skills and to plan and organise my studies. Unisa for me, is a leadership institution; it teaches one both independence and teamwork skills."
He fell in love with words because he is not into sport but reads books, newspapers and blogs most of the time instead. "It is a love I developed early in high school. An English teacher at my former high school made literature very interesting as he was very fond of it and passionate when teaching it. He stirred up the writer in me. I began to see the relationship between literature and society at large, including poems, short stories and the novels narrating events that are available in society.
To date, he has lost count of the poems he has written. "I started writing when I was 14; I am not sure if I was a poet then, but it all began there."
Most of his poems are online and his debut poetry collection, published in 2017 and entitled My words in volumes: Emotions of a poet, was selected as a prescribed library resource by the Gauteng Education Department for the 2018 Young Writers Project. Masombuka recently published a collection of poems on which he worked with South African Poet Laureate Dr Mongane Wally Serote, entitled Elegies & eulogies. The preface was written by award-winning author Jayne Bauling.
Masombuka is inspired by many poets out there, who he believes are agents of change, the voices of the voiceless, as they write to touch souls. "I read and follow most poets on social media platforms and the ones who continue to inspire me are Sifiso Mtshali, Oswald Mbuyiseni Mtshali, Sipho Sepamla, Gcina Mhlophe, Ingrid Jonker and Mzwakhe Mbuli." They include those under the Hear My Voice organisation, such as Vangile Gantsho, Solly Ramatswi, and others.
He plans on growing in both the field of education as an educator and also in the literary industry as poet. "This is to recognise and shape the futures of the many poets in this country, because when you silence a poet, you silence a nation," concludes Masombuka.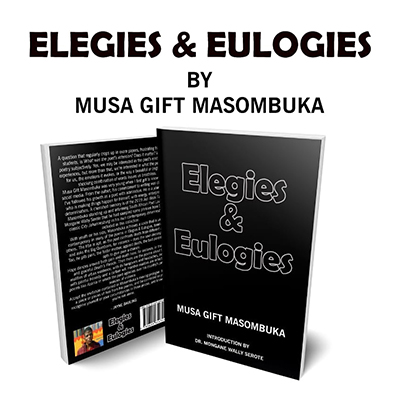 You can help sponsor the printing of Elegies & eulogies by Musa Masombuka here.
* Interview by Busisiwe Mahlangu, Communications Coordinator, Department of Institutional Advancement