College of Agriculture & Environmental Sciences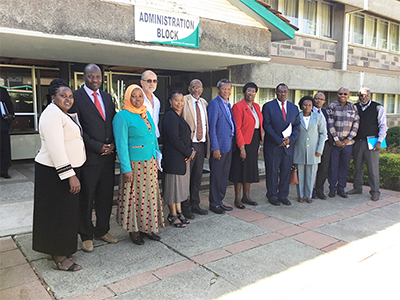 Unisa's College of Agriculture and Environmental Sciences (CAES) undertook a critical mission to advance internationalisation through strategic collaborations and partnerships in the Republic of Kenya, bearing prospects to further expand to neighbouring countries.
Supported by colleagues from the Strategic Partnerships unit, CAES met with appraised institutions in Kenya. Engagements were held with the Jomo Kenyatta University of Agriculture and Technology (JKUAT), the University of Nairobi (UON), Kenyatta University (KU), Egerton University and Baraton College, a sister college to Egerton University (EU).
Essentially, the visit focused on, among others, exploring opportunities for internationalisation prospects such as joint degrees, co-supervision, mobility, and co-publishing; opportunities to create awareness and share insights on open, distance, and e-learning (ODeL) teaching, learning, and research in the sciences; advance and broaden scope for collaborative research, and expand the Unisa Animal Health programme. It was a mission with a distinct intention to bring back timetables and implementation plans.
Four agreements were concluded, covering various potential areas of collaboration, including the above-mentioned areas. The engagements also identified and concretised priority areas of collaboration with time lines. Some of the priority areas cut across Unisa colleges, thus opening prospects for interactive collaborations across the university and beyond CAES.
Furthermore, the mission took time to engage the Kenya Veterinary Board, as the national custodian responsible for registration and regulation of veterinary affairs in Kenya. This strategic engagement aimed to create awareness and facilitate implementation of Unisa collaboration in the country. The visit was one of the successful missions of 2018 and carved an everlasting impression about Unisa in the Eastern Region of Africa, as an ODeL academic and research institution. This impression was reaffirmed by the recent visit to Unisa by a delegation from the Kenya Council for Higher Education (equivalent of CHE).
You can read more about the visit here.
*By Kelebogile Moruane and Siza Magubane
Publish date: 2018-12-10 00:00:00.0