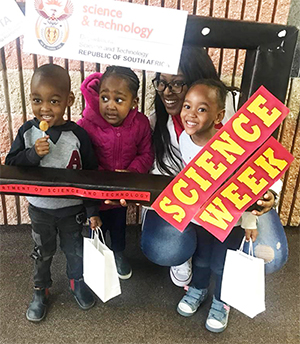 The Unisa Science Campus hosted the 2018 National Science Week (NSW) from 30 July to 4 August 2018. The aim of NSW is to promote science, engineering, and technology, focusing on the theme of deepening our democracy through science! Inspired Towards Science, Engineering and Technology (I-SET) is one of only 80 NSW grant holders from the Department of Science and Technology (DST), which promotes this national celebration of science through science-based activities.
The aims of the project include:
To popularise science to the broader South African society.
To serve as a vehicle for showcasing local innovations in science and technology, and the leadership role of the DST and other government departments in enabling research, development and innovation.
To make science, technology, engineering, mathematics, and innovation (STEMI) subjects appealing to learners, such that they consider STEMI as preferable career options.
To familiarise targeted participants with the science linked to areas in which South Africa has knowledge and/or geographic advantage so as to contribute in making them informed and critically engaged citizens.
Unisa's College of Agriculture and Economic Sciences (CAES) and College of Science, Engineering and Technology (CSET) presented a diverse programme of exhibits and campus tours, an engineering focus day (Tuesday), and a Digital Friday (Friday). The exhibitions included robotics, geography, engineering, astronomy, mathematics, statistics, textiles, 3D scanning. consumer sciences, and materials. The tours included robotics workshops, engineering labs, the horticulture centre, body scanning, and an hour of code.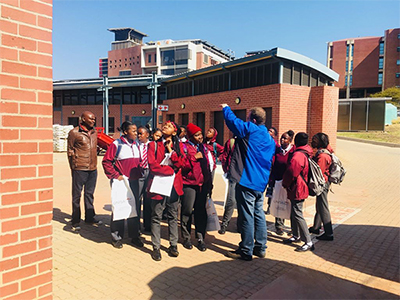 In parallel, more than 120 international delegates attended the AMSIC-2 Conference. The conference also had an opportunity to view the impressive stalls of the Science Week. Such an effort has really exposed the Science Campus to the world's best scholars and experts in the fields of membrane science and technology.
Digital Friday presented a host of cyber security and safety experts. According to one of the experts, Professor Bobby Tait from the School of Computing: "We increasingly live in a world where technology is integrated into our daily lives. As a result, we spend more time using the internet for work, education and socialising. By participating in this cyber world we are also exposed to criminal elements that aim to steal our identities, money and other digital assets. All cyber users should understand these cyber threats as well as what to do to create a safe and wholesome digital world."
During the Digital Friday event, the learners, Unisa Community and external audiences were presented with digital-related talks on topics such 'Your digital footprint in cyberspace', 'The pitfalls of today's digitally connected world', and 'Data protection and the effect on social media and children'. SaveTNet Cyber NPC played an active role at Unisa NSW 2018 with CEO Rianette Leibowitz sharing ways to become more responsible digital citizens. The organisation offers help for people who are in cyber trouble. "Too many people are experiencing the negative side of social media, which could lead to depression, addiction, compassion deficit disorder and more. That is why SaveTNet works hard to create awareness with the aim that people will take cyber safety to heart," she said.
Other experts included Sizwe SNAIL kaMtuze, a member of the South African Information Regulator Office, who spoke on data protection and its effect on social media and children. Ryan "Parker" Macquet, e-sports host, commentator and education specialist, spoke on the role of electronic sports in education, Professor Basie von Solms, University of Johannesburg, presented on digital footprints in cyberspace, and Candice Sutherland, iTooSpecial Risks, spoke on cybercrime in South Africa.
NSW 2018 was an awesome adventure for all those who visited the Unisa Science Campus. There was a greater participation and this provided increased access and an even greater awareness of the deepening of our democracy through science. The organisers would like to thank all the sponsors, exhibitors and volunteers for ensuring that the event was a resounding success.
*By Thembeka Ntuli-Mpapama and Patricia Gouws