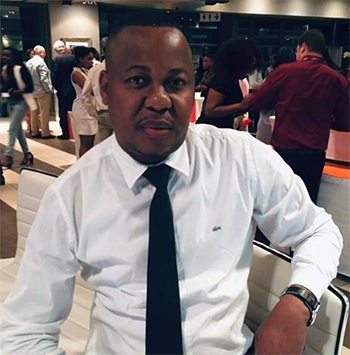 When Nell Malesa Ledwaba left the employ of Unisa in 2018, he never imagined the positive impact that he was going to have on the alumni division at the University of Johannesburg. Being an alumnus of Unisa and various other institutions in South Africa, coupled with the work experience he earned, helped to set him high in the position he currently occupies as the Senior Manager, Faculty Coordination and Alumni.
Currently pursuing a doctorate in administration, amongst the five qualifications he has is an LLB degree he obtained at Unisa in 2019. Ledwaba recently visited Unisa—his old workplace and Alma Mater—which is how he keeps in touch with Unisa's Alumni Relations Office. He believes he still needs to contribute to his institution of choice. He tells eConnect why in his own words:
This is even more pronounced now that I work for an alumni division of another institution. I head five other divisions, including alumni relations; it means I am in the thick of things. Being on the receiving end, I see how much more the contribution of alumni is required for the success of university life.
Key to being an alumnus is taking part in the processes of the institution. That is where one can make an impact. I am an ex officio member of the Unisa Convocation, a body where I learnt of the many pertinent issues affecting the development of universities across the board. A concern for me has been the student success rate at our institutions countrywide. I believe mentorship can be effective in ensuring that students enter universities and leave with their hard-earned qualifications.
IF ALUMNI UNDERTOOK TO MENTOR STUDENTS, THE WORLD WOULD BE DIFFERENT.
My keen interest in university matters stems from work experience too. My career in the higher education sector began in 2003. I've occupied academic positions at the Tshwane University of Technology, University of KwaZulu-Natal and Pretoria University. I was with Unisa as supervisor in the exams department from 2011 until 2018. This has created an unforgettable experience for me.
The open, distance, and e-learning (ODeL) system offered by Unisa shaped my future. Even though Unisa is distance education, it always felt like I attended university full time. The study system instilled discipline in me. It took a lot of responsibility to study as soon as the study material arrived. I achieved a lot through networking with other students, who are everywhere in the world.
When more opportunities arise to study with Unisa, I will surely take them up. I have great respect for my Alma Mater. You study wherever you are. My take is, if you don't start to study you will never finish. Study now, don't procrastinate!
*Interview by Busisiwe Mahlangu, Communications Coordinator, Department of Institutional Advancement