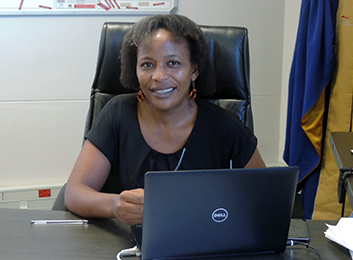 The KwaZulu-Natal (KZN) region, the second biggest region of Unisa, with about 70 000 registered students, will now be led by one of its alumni. The university warmly welcomes the newly appointed Regional Director (RD), Philisiwe Joyce Myeza, who assumed her position in February 2020.
The RD joined Unisa from the University of KwaZulu-Natal (UKZN) where she was director of the UKZN libraries and special collections from 2015 until 2020. Before this assignment, she worked at various institutions of higher learning, including the Mangosuthu University of Technology (MUT) and the Durban University of Technology (DUT).
Myeza is a family person and a mother of three children. However, she is also an accomplished scholar and published author. She received her very first degree from Unisa, a BA in 1994, and further obtained a Postgraduate Diploma in Information Studies and an Honours in Information Sciences from UKZN. She also holds two master's degrees, one from DUT and one from the Simmons College in Boston, USA, where she was a Fulbright scholar from 2007 to 2009. She also obtained a Leadership certificate from the renowned Harvard University in Cambridge, USA. She is currently reading for her PhD.
The KZN region has several offices across the province from the central hub in Durban to regional offices in Newcastle, Pietermaritzburg, Richards Bay and the Wild Coast in Mbizana. This vast region, like other Unisa regions, has a mandate to deliver the full bouquet of learner support services to students, and Myeza as a leader with undoubted passion for libraries, will ensure the region delivers on this mandate.
In a meeting with the regional management, the RD articulated her leadership style, emphasising her strong belief in servant leadership, saying, "I will lead by example in order to motivate others—more like a mother taking care of her children". She further said that the region should focus on the bigger picture, namely to ensure that Unisa students succeeded in their studies. The region should become more student-centred and guide students through their studies to succeed academically. She said since all staff members were there to serve the students, the focus should be on the throughput rate as a measure of success on the university's core business of teaching and learning, thus enabling Unisa to successfully achieve its academic project through scholarship.
Myeza said the message she would like to share with all KZN region staff members is that she believes in respect for each other, and urged colleagues to reach out to each other and to show Unisa students the same respect that Unisans show towards their families.
By Siyabonga Seme, Manager: Communications, KwaZulu-Natal Region