26 January to 06 February 2016
Unisa Muckleneuk Campus, Pretoria, South Africa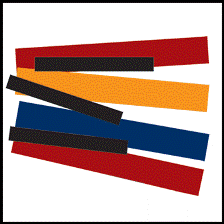 Unisa has been presenting international music competitions since 1982, including piano, strings, voice, flute, clarinet and organ.
Adjudicators
Classical Jury
Prof David Ascanio (Venezuela)
Mr Albert Mamriev (Germany)
Prof Hyunok Moon (South Korea)
Prof Muza Rubackyte (Lithuania/France)
Dr Pierre van der Westhuizen (USA/SA)

Jazz Jury
Mr Peter Beets (Netherlands)
Prof Denny Euprasert (Thailand)
Prof Kevin Harris (USA)
Mr Melvin Peters (South Africa)
Prof Andrea Vicari (UK)

Non-voting Chairperson (both panels)
Prof Karendra Devroop (South Africa)
Winners
American pianist Addison Frei (Jazz) as well as Romanian pianist Daniel Ciobanu (Classical) were announced as winners of the 13th Unisa International Piano Competition in front of a filled ZK Matthews Great Hall on Saturday 06 February 2016. The Grand Finale signalled a close to a two week programme which had seen the piano take centre-stage at Unisa and marked an achievement of the Unisa Music Foundation who took a bold step in combining the two categories of jazz and classical: a first for the world.
The final round of the competition featured three classical pianists and three jazz pianists performing with a symphony orchestra and rhythm section respectively on two separate nights. The classical pianists each performed a piano concerto and the jazz finalists performed with bass and drums.
Daniel Cionbanu impressed jury and audience alike with his performance of Sergei Rachmaninov's Rhapsody on a Theme of Paganini, Op 43; while Mr Frei dazzled with a medley of Slow boat to China (Frank Loesser), Theme from Symphony no 4 (Johannes Brahms), The grind (an original work), Ruby my dear (Thelonious Monk), Chega de Saudade (Antonio Carlos Jobim) and I'm an old cowhand (Johnny Mercer). Their cumulative scores for the four rounds ensured their place as winners of this year's competition.
During the prize giving ceremony, Unisa Vice-Chancellor Professor Mandla Makhanya, emphasised feedback from the judges saying that the level of performance was exceptional and that this paid testament to the calibre of competitors the competition consistently attracts.
Special awards went to South African's Megan-Geoffrey Prins for best performance of a South African classical work (by Bongani Ndodana-Breen) and Lungelo Ngcobo for best performance of a South African jazz work (by Concord Nkabinde).
Daniel Ciobanu will return to South Africa for a concert tour in 2017.
Finalists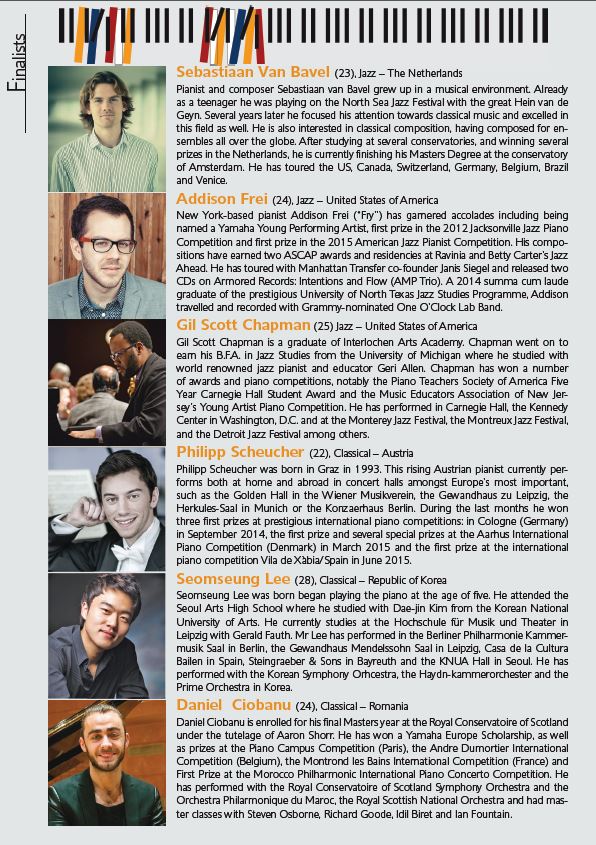 Competitors
Pianists from 22 countries around the globe entered for the event. The following pianists were invited to participate in the live rounds in Pretoria:

Classical Category
Igor Andreev (Russia)
Sheng Cai (Canada)
Han Chen (Taiwan)
Daniel Petrica Ciobanu (Romania)
Willem de Beer (South Africa)
Anna Dmytrenko (Ukraine)
Kana Ito (Japan)
SeomSeung Lee (Republic of Korea)
Filip Michalak (Denmark)
Luka Okros (Georgia)
Liana Paniyeva (Ukraine)
Megan-Geoffrey Prins (South Africa)
Philipp Scheucher (Austria)
Jenna Sung (Republic of Korea)
Georgy Voylochnikov (Russia)

Jazz Category
Matt Choboter (Canada)
Joshua Espinoza (USA)
Addison Frei (USA)
Gil Scott Chapman (USA)
Ashley Henry (UK)
Lex Korten (USA)
Max Naseck (USA)
Lungelo Ngcobo (South Africa)
Thandi Ntuli (South Africa)
Michael Palma (USA)
Paul Shinn (USA)
Sebastiaan van Bavel (The Netherlands)
Sam Watts (UK)