Calendar & events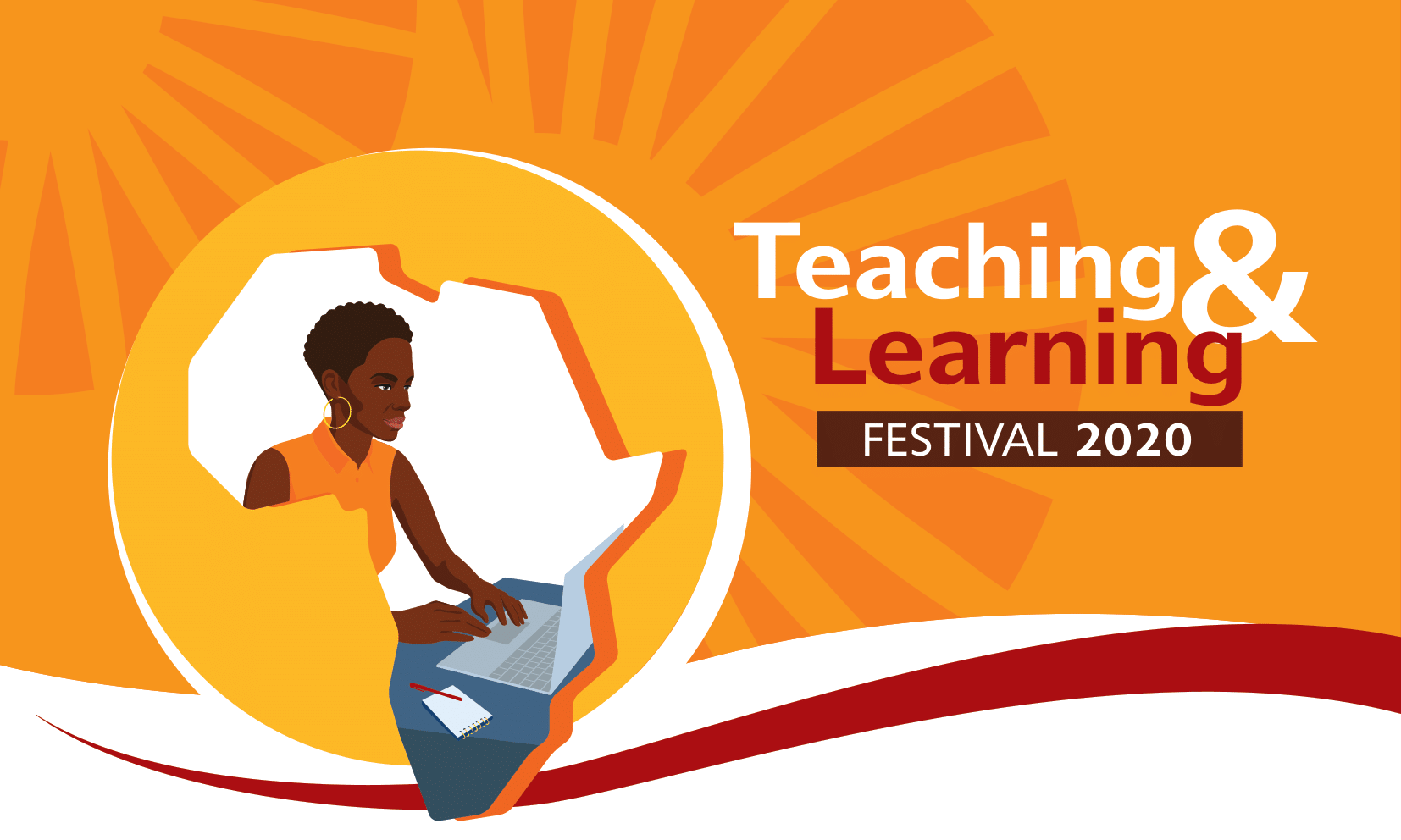 Venue:

Online conference

Event date:

05 - 08 October 2020

Time:

09:00:00 - 13:00:00
Theme: Digitally yours, Unisa
WHO IS SPEAKING
Sipho Mogane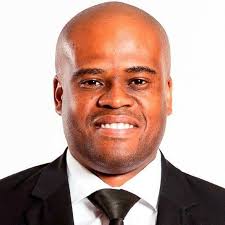 Chief Operating Officer at The Heels
Sipho Mogane is currently a Chief Operating Officer at The Heels: Skills, Training and Development Insitute, providing Adult Education Traing (AET) to previously disadvantaged communities in partnership with SETA.
He's also a Director at The Heels Events Management Services, since 2015. The Heels Events Management Services helps individuals and businesses to market themselves, build relationships, raise money and celebrate achievement through delivering world-class festivals, conferences, ceremonies, formal parties, concerts and conventions.
He previously worked as an Independent Non-Executive Director and Board Member of Financial Planning Institute of Southern Africa from 2017 to 2019, serving on the Board of Directors as well as on associated FPI committees.
Tshilidzi Marwala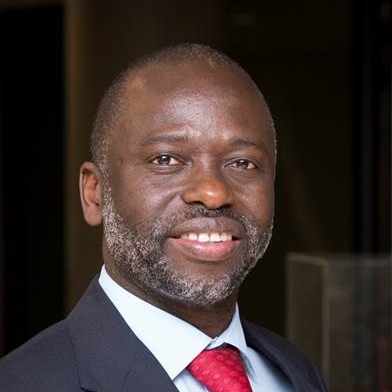 Vice Chancellor (University of Johannesburg)
Tshilidzi Marwala (born 28 July 1971) is a South African mechanical engineer and computer scientist. He became Professor at the University of the Witwatersrand in 2003 and also chairperson of System and Control Engineering in South Africa. He has previously worked at the CSIR and for South African Breweries.
He is currently Vice-Chancellor and Principal of the University of Johannesburg with effect from 1 January 2018. He was previously the Deputy Vice Chancellor for Research and Internationalization as well as the Dean of Engineering at the University of Johannesburg, a Professor of Electrical Engineering, the Carl and Emily Fuchs Chair of Systems and Control Engineering as well as the sarchi[1] Chair of Systems Engineering at the University of the Witwatersrand.
Prof. Kethamonie Naidoo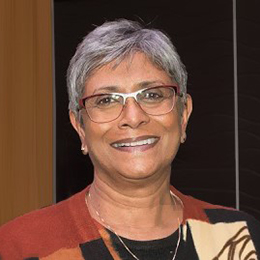 Director: Accreditation at CHE
She's responsible for accreditation of programmes of universities and colleges, the HEQSF alignment process and promoting high quality programmes.
Currently managing the Integrated Quality Assurance Framework (IQAF) project to set up a new quality assurance framework for higher education in South Africa.
CONFERENCE SCHEDULE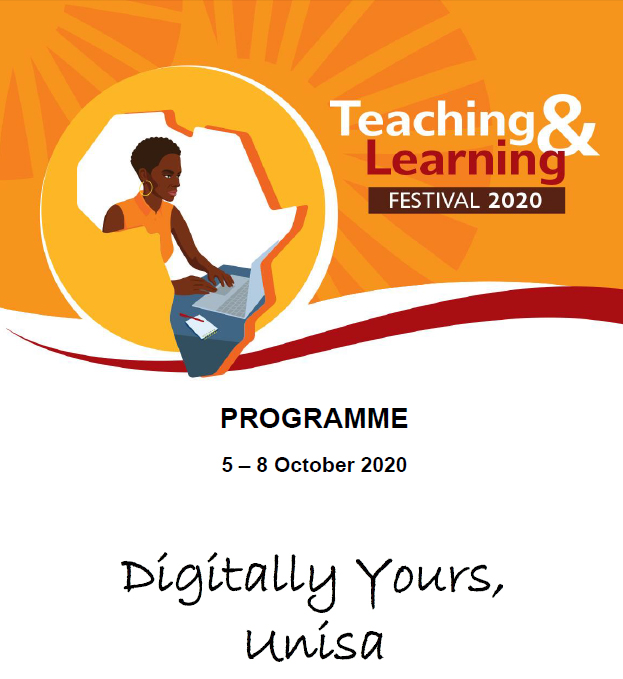 NOMINEES
The Nominees for Teaching and Learning Conference have been announced. Here are the lists of all nominees by category:
1. Scholarship of Teaching and Learning
| # | NAME |
| --- | --- |
| 1 | Dr Margaret Malewaneng Maja |
2. Excellence Award for Student Support
| # | NAME |
| --- | --- |
| 1 | Dr J Nene |
| 2 | Mike Masia (CAS) |
| 3 | Hlongwane Mlungisi (CAS) |
| 4 | Keba Ramushwana (CAS) |
| 5 | Thabo Matsoma (CAS) |
| 6 | Mandla Kabini (CAS) |
| 7 | Lorena Brits (CAS) |
| 8 | Annette Becker (CAS) |
| 9 | Dr E Rudolph (CEMS) |
3. Excellence Award for Innovation in Tuition
| # | NAME |
| --- | --- |
| 1 | Dr T Shandu-Phetla |
| 2 | Ms Rika Dry |
| 3 | Dr Jan Mentz |
| 4 | Prof Monde Ntwasa |
| 5 | Mr Sibusiso Malindisa |
| 6 | Ms A Bauling |
4. Excellence Award for Transformation in Teaching and Learning
| # | NAME |
| --- | --- |
| 1 | Prof Kobus Wessels |
| 2 | Prof Liza van Jaarsveldt |
| 3 | Prof Londoloza Luvuno |
| 4 | Prof Eric Nealer |
| 5 | Prof Sinval Kahn |
| 6 | Prof Werner Webb |
5. Excellence Award for Module Design
| # | NAME |
| --- | --- |
| 1 | Dr Mariette Strydom |
| 2 | Dr N Mthembu |
| 3 | Ms M Mooki and Mr S Makama |
6. Excellence Award for Student Success and Retention
| # | NAME |
| --- | --- |
| 1 | Bafo Khanyeza (CAS) |
| 2 | Sipho Mnguni (CAS) |
| 3 | Danie Du Plessis (College of Humanities) |
7. Excellence Award for Assessment
| # | NAME |
| --- | --- |
| 1 | Duwayne Anthony Kock |
ENQUIRIES
HALL OF FAME - EXCELLENCE IN TUITION AWARDS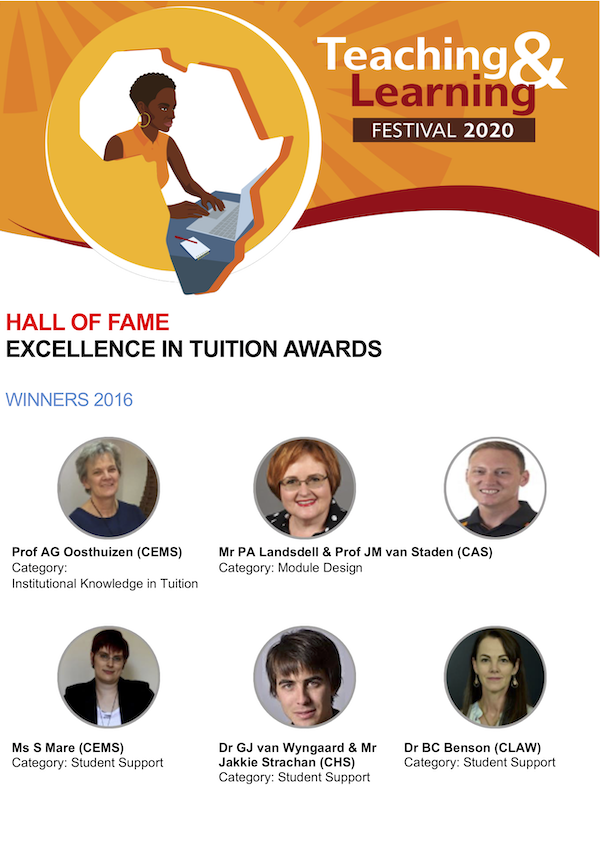 TEACHING AND LEARNING FESTIVAL HIGHLIGHTS 2020