Students from the Department of Mechanical Engineering in Unisa's College of Science, Engineering and Technology set out on the Sasol Solar Challenge to showcase the solar-powered car that they designed and built to travel without using a single drop of fuel.
Click here to view a video of the start of the journey.
The Sasol Solar Challenge presents a unique opportunity for young minds to come together and challenge themselves and further demonstrate what they achieve. Solar car teams typically partner with leading technology companies to test and develop cutting-edge innovations during their participation in solar challenges.
The ultimate goal is for the solar car to cover the distance from Johannesburg to Cape Town without using fuel. The challenge alternates with the Bridgestone World Solar Challenge, which has hosted some of the world's leading teams.
This year's Sasol Solar Challenge will take place from 09 to 16 September 2022, and the cars must cover the following route:
Day 1: 9 September 2022 – Boksburg to Kroonstad
Day 2: 10 September 2022 – Kroonstad to Bloemfontein
Day 3: 11 September 2022 – Bloemfontein to Gariep Dam
Day 4: 12 September 2022 – Gariep Dam to Graaff-Reinet
Day 5: 13 September 2022 – Graaff-Reinet to Jeffrey's Bay
Day 6: 15 September 2022 – Jeffrey's Bay to Riversdale
Day 7: 16 September 2022 – Riversdale to Cape Town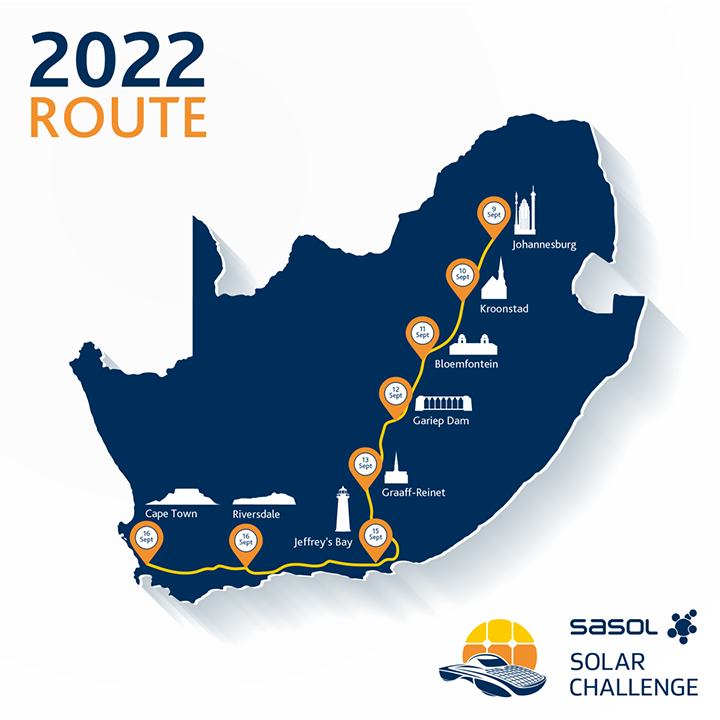 Before setting out on the challenge, the Department of Mechanical Engineering hosted an official solar car preview ceremony on 2 September 2022 at the Unisa the Science Campus (Mechanical Laboratory), to showcase the car to the college and entire university.
"We wish the solar car team well as they start their tour to Cape Town today. We are praying for them and cheering them on to finish strong," said Prof Simi Dube, Acting Executive Dean of the College of Science, Engineering and Technology.
Follow the Unisa's team journey on Twitter at #UnisaCSETSolarCar
@Solar_Challenge
@IlangaCup
@unisaradio
@UnisaRandI
* By Dr Nozipho N Gumbi, Acting Communication and Marketing Specialist, College of Science, Engineering and Technology