As the country continues on lockdown because of the Covid-19 pandemic, the financial implications are straining many families. Thousands of people have lost their jobs and more and more are begging on the streets daily. This is part of the reason why proud Unisan Helene Kruger-Franck, from the School of Computing in the College of Science, Engineering and Technology (CSET), decided to purchase food hampers to distribute among those in her area. She then initiated Helene's Outreach Programme (HOP).
As we celebrate Mandela Month in honour of the legacy of the late former South African president and Unisa alumnus, Nelson Rolihlahla Mandela, Kruger-Franck truly lives by his words: "There can be no greater gift than that of giving one's time and energy to help others without expecting anything in return."
HOP was born out of an project within CSET's Department of Information Systems, where they distributed masks as part of their Covid-19 initiative. Kruger-Franck and the Chair of Department (CoD), Prof Shawren Singh, created a form on the Teams platform where CSET staff members could purchase masks for themselves and purchase extra as a donation to the Helen Joseph Hospital initiative. Kruger-Franck managed the logistics of the initiative; she empowered herself and developed an electronic system to manage the mask project.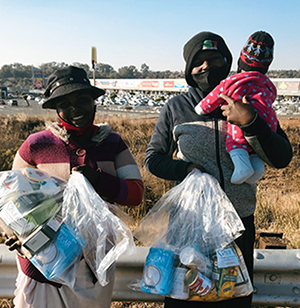 As she and her colleagues noticed an influx of people standing on the streets asking for food, it became evident that the pandemic was affecting more people and their livelihoods than they had thought. Apart from food parcels, Kruger-Franck has managed to assist needy families with electricity, water, clothes and pet food. With the help of her generous colleagues from CSET, as well as her friends, Helene has so far managed to help about 20 families.
Kruger-Franck hopes to help as many as she can on a monthly basis, and not only as a once-off. She is truly grateful for the support, encouragement and assistance from her colleagues, friends, Singh and Prof Bhekie Mamba, CSET's Executive Dean (ED). The ED's praise of the project and his positive disposition encouraged Helene to develop the initiative further.
"Without the support and donations from my colleagues, this would have never turned into a reality. With every 'thank you' I receive from the families, I know that it is meant for my colleagues. My CoD, Prof Singh, also guided me on how to make this a reality, advised me on safety protocols for my safety and that of others, and how to pack the clothes and food parcels. Without his guidance and support, this would not have been possible. I am extremely grateful to the Executive Dean, Prof Mamba, who enabled me to run this project from within our department."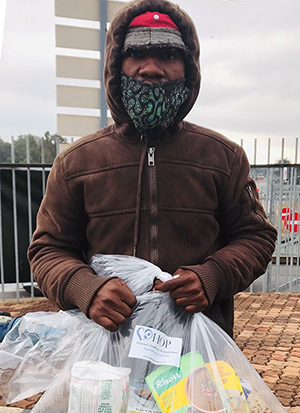 Through word of mouth, the publication of her website and posts on her community's Facebook page, Kruger-Franck gets directly contacted by families and receives referrals. She is then able to speak to them directly, find out what their needs are and cater accordingly. For now, she focuses on the community in the Wilgeheuwel area, rural and residential. She has also expanded to areas in Johannesburg as far as Krugersdorp. Her goal is to help as many people and animals who are affected by the national lockdown caused by this pandemic as possible.
"As a true Unisan and a firm advocate of the 11 Cs+1, she empowered herself, took the academic theory and operationalised it in her community. HOP is a testament to the fact that the 11 Cs+1 are greater than the university. Though they are homed at Unisa, she has taken them out of the institution. During these trying times, Helene has added a ray of hope to the lives of several individuals. She has used her social capital to galvanise her colleagues and community to dig deeper and assist those in need," expressed Singh of his PA's initiative.
Kruger-Franck would like to request business owners and other entities to assist with an initiative that can help find employment for these needy people. As she continues to welcome donations from anyone willing to assist, she believes that, as communities and as South Africans, they can make a change by helping others. She further expressed how extremely proud she is to call herself a Unisan and a South African.
* By Nancy Legodi, Acting Journalist, Department of Institutional Advancement