The inaugural lecture of Prof Elmarie Kritzinger, School of Computing, titled Cyber safety for school learners, took place on 22 August 2017.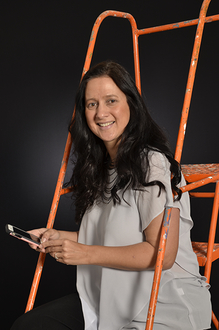 According to Kritzinger, we live in the age of technology where we are connected to information communication technology (ICT) on a daily basis. We use technology (especially access to the internet) for education, socialising, and work-related activities.
As internet users (cyber citizens), we are exposed to the best and the worst of the internet (cyberspace). Advantages of cyberspace include a growing global connectivity and instant access to information.
However, cyberspace also has a wide range of cyber risks and threats, which include identity theft, cyber bullying, and social engineering attacks. It is vital that all cyber users protect themselves and their information within cyberspace. If a cyber incident does occur:
Do not panic.
Ignore.
Block the sender.
Report the cyber incidents.
"Be safe, be cyber safe," she concludes.
What's the most interesting thing about you that we wouldn't learn from your CV alone?
The most interesting thing about me is that I have a plan for my future. I know no one can predict the future but we can prepare to the best of our abilities. So, I always have a plan (with at least two or three backup plans—just in case).
What's playing in your car right now?
With two small children in the car, most of the time it is children's stories playing over and over again. I am amazed at how many times children can listen to the same stories without getting bored.
If you were stranded on a desert island, what three items would you want to have with you, and why?
Firstly, my pillow.
Secondly, my IPAD (with a solar charger)—I am sure the island will have WiFi.
Lastly , matches (not sure I will be able to make fire with two sticks).
What keeps you enthused about your career?
To be part of the academic knowledge cycle. To create knew knowledge through research and then to transfer new and existing knowledge to the next generation of scholars. I think the legacy we leave can be measured in the knowledge we share with others.
Describe your leadership style? How has it evolved over the years?
As a teacher, scholar, and supervisor, I think my leadership style can be seen as a coaching and mentoring leadership style. My leadership approach has not changed much in the last few years and is deeply rooted in the approach to cultivate a mentoring environment for those I work with.
*Compiled by Sharon Farrell