As South Africa gears up to celebrate Human Rights Day, meet two students who are not only experts in human rights locally, but who honed their continental expertise by representing Unisa at the 26th All African Human Rights Moot Court Competition in Mauritius last year.
Ntombizodwa (Zodwa) Msane is an aspiring human rights activist, philanthropist, and an environmentalist at heart. She obtained a diploma in law at the University of Johannesburg and is currently a final year LLB student at Unisa. She was the runner up for best oralist at the Unisa Inter-Regional Moot Court Competition in 2016 and was selected as one of the student representatives for the 2017 All African Moot Court Competition held in Mauritius. She has the desire to serve as a constitutional clerk for the South African Constitutional Court.
Sindiso Sibanda is a recent LLB graduate, now registered for an LLM in Income Tax Law. He has worked as a technical support consultant in the beverage, manufacturing, and brewing industry. He has a nagging passion for law and advocacy, which has seen him embark on a complete career change from a purely scientific industry to the field of law. He has been involved in moot competitions since 2016 to hone his litigation skills. In 2016, he was nominated the best oralist in the Unisa Inter-Regional Moot Court Competition and qualified to participate in the All African Human Rights Moot Court Competition.
We caught up with these two champion oralists and found out a little bit more.
Moot schmoot? What's it all about?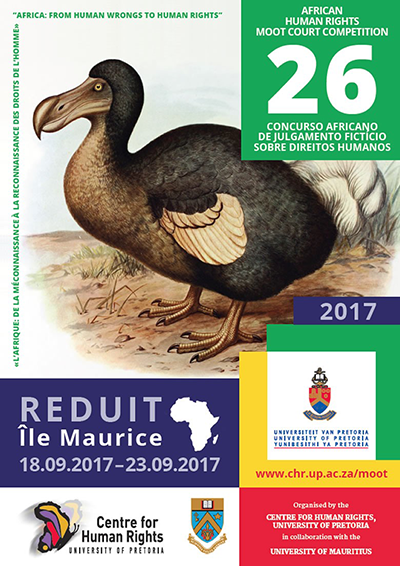 ZM: NB! The Moot Court is a legal skills programme facilitated by Unisa's College of Law. It is a simulated court proceeding that provides students with a hypothetical case which requires them to draft memorials and present their research in a form of oral presentation in order to improve their litigation skills.
The All African Human Rights Moot Court Competition is a gathering of law students, academics, and judges practising within the field of human rights in Africa. The competition is hosted annually in different African countries by the Centre for Human Rights at the University of Pretoria. African law faculties are invited to participate in this competition by sending their top students, who will argue a hypothetical human rights case as if they were before the African Court on Human and Peoples Rights.
How were you selected to represent Unisa at the 26th All African Human Rights Moot Court Competition?
SS: All Inter-Regional Moot competitors are given an opportunity to interview for the All African Human Rights Moot Competition. A hypothetical case is sent out to all the interested participants a week before the interview date. The participants are required to draft heads of arguments for both the Applicant and Respondent.
An interesting dynamic at this stage is the change in the legal instruments, from using the Constitution of the Republic of South Africa students learn to use the International instruments such as the African Charter on Human and Peoples' Rights. After gruelling interview sessions two of the best students are selected. The mentors at this stage look for students with the best drafting and oral skills as well as students who are nimble on their feet and show a level of ingenuity in addressing their arguments.
How did the preparation for the moot court go? Who helped you?
ZM: The preparations for the moot court entailed a lot of research, drafting, and studying all relevant legislations and case law subject to human rights as passed by the African Court and Commission. I ensured that I was audible by answering the question I was asked and advancing my argument without losing my line of thought.
We were assisted by our faculty representatives, namely Paul Anthonie, Sibongile Baloyi, Kedibone Chembe, Justice Khoza, Dr Tumi Mmusinyane, and a few of our fellow students who contributed to the compilation of our files.
SS: The preparation process is quite involved, as indicated, and one of the skills I took out of the process is the ability to work under pressure and meet the deadlines. The initial part of the preparation comes right before the first semester exams and one has to strike a balance between studies and research for the moot competitions. Our mentors were very instrumental in getting us ready for the competition and allowed us a bit of latitude in balancing our studies and preparing for moot court. I also learned how to work as a team, assign each other responsibilities, and deal with any eventualities that arise when we fail to meet our own targets as a team. Teamwork entails that one should also be able to help the other pick up the pieces where the other is battling under academic or emotional pressure.
Do oratory skills really matter or will research alone get you through the moot?
ZM: The basis and focal point of being a mooter is practising and sharpening one's litigation skills. This means that your oral skills or abilities are very important as your articulation of the research you have conducted in the form of oral presentation to the presiding officers is of the utmost importance.
SS: Mooting is about being able to litigate and articulate your argument. You need very strong orator skills to be able to do that. However a typical Mooter must be a package that embodies a number of skills, namely research, drafting, oral, and listening skills.
How important is team effort during moot preparations? Did you have conflicts? How did you resolve them?
ZM: Working as team is very important as it encompasses sacrifice, commitment, and effective communication. These are all underlying influences that will affect your team's ability to achieve its set goals. Since we were fortunate enough to have previously worked together, we did not encounter any conflict because we had a common goal to achieve and understood our roles during the preparation of the competition such as the allocation of tasks and knowing how best to utilise our strengths by complementing each other throughout the competition.
SS: Teamwork is an essential ingredient in a moot team. Zodwa and I were blessed in that we had had interactions prior to entering the moot competition. We were able to identify our strengths from the onset and outline our course of action going forward. For instance, because my strengths were more on the drafting aspect and Zodwa is a phenomenal researcher, I did more of the drafting and making sure that we had cogent arguments on paper while Zodwa did the research for us.
We had no incidents of conflict because we outlined our plan of action from the start and split our responsibilities between each other; all we had to do was to check on one another's progress. We spent a great deal of time together and created a brother-sister bond that enabled us to confide in each other from time to time about our stresses. Our relationship was not limited to the moot preparation only but also assisting each other in achieving good marks in our studies as well.
What were your impressions of the All African Human Rights Moot Competition?
ZM: I had anticipated the competition to be challenging as well as rewarding, bearing in mind the passion and dedication that would play a vital role in achieving the desired goals. I am pleased to have made the acquaintance of other fellow students from diverse African countries as well as engaging with inspirational leaders. The invaluable experience acquired from this journey will always be one of the favourite memories I will recall of my time as a student.
SS: I did not realise the magnitude of the competition until we were graced by the presence of His Excellency the Acting President of Mauritius at that time. It gave me a different perspective of the competition and I realised that it is a great platform for upcoming lawyers to hone their skills. The competition creates a complete package out of all who participate in it, and prepares one for the world out there.
What experience did you gain?
ZM: I have acquired research and legal drafting skills as well as having sharpened my oral presentation abilities, which has assisted me with public speaking.
SS: I learnt how to work with a team member, do research, draft documents, and presenting oral arguments.
Would you recommend moot courts to other students? Why?
ZM: Certainly, it allows you to appreciate the principle of applying legal theory into practicality by merging your academically acquired skills over the years into an instrument that will assist you in advancing your career. It provides you with the opportunity to better equip yourself as a litigator whilst you are a student as well as practice the required skills you will need as a legal practitioner.
(NB! It also sets any doubts into perspective that you might have had with regards to becoming a lawyer. Because you will either sink or swim to greater achievements or a new career path!)
SS: I would, without any doubt encourage all students to enter moot courts. Skills attained on the moot platform are invaluable and would alter any student's professional course. By the time you are done you are a complete and sought-after package in the marketplace.
*Interview by Sharon Farrell
Extra information sourced from All African Human Rights Moot Court Competition