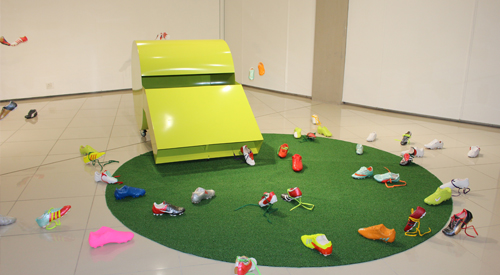 The Department of Art History, Visual Arts and Musicology in the College of Human Sciences hosted the 2017 Masters and Doctorate Exhibition, which showcased the work of Visual Arts Masters and Doctorate students including Zelda Cloete, Sango Filita, Kabelo Maja, Zelda Cloete, Daniel Mosako, Jacob Lebeko, Hannelie Swart and Yvette Dunn-Moses. The exhibition was well attended by family, friends, Unisa staff and students whom were left in awe with the talent Unisa students possess.
"I did not expect to see such greatness at a Masters and Doctorate exhibition, I am still left speechless. We need to be exposed to more artwork by students," said one of the attendees at the exhibition.
Mosako emphasised that his body of work is a reflection of the years of study of observations made on perspectives and perceptions on social inclusions and exclusions, in which he depicted visual angles and explorations of inclusive motifs and patterns. He said: "I exclude images of human figures in my work to make loud comments about the absence of what needs to be present, being cohesive social environments."
Swart's Down the Rabbit Hole consisted of a still motion animation video which was refracted through icosahedron acrylic shape to blur the disorientation inspired by Alice in the Wonderland. The multiphrenic self is refracted to experience the sense of fractured identities, living within the life-world of postmodern schizophrenia.
On her work, Cloete said: "These imaginary and illusionary virtual worlds are envisioned as mental videos created within specific spaces during moments when my mind wonders while relaxing," adding that greener? Represents a variety of day dreaming sites made up of poses as personal signatures of myself together with fragments of my fantasy worlds, disseminated through video projections.
Filita's exhibition entitled 'Maz' enethole', which directly translated as "a cow with a calf" is a Xhosa idiomatic expression meaning Thank You. The actual focus of Sango's study, which this exhibition embodies is the commemoration of the grandmothers who after raising their children also continue to raise their grandchildren.
Lebeko, who is also the assistant curator at the Unisa Art Gallery, thought of boundless ways that art can be exhibited in curating, he believes that the traditional "white walls" for exhibiting art should be challenged with other environmental areas such as the cafeteria, hallway and entrance of the building.
Dunn-Moses's installation and performance looked at the extent to which women will go to fulfil ideas of beauty. It dramatises the blurry line between vanity and insanity. The performance is a masquerade of the idealsed perceptions related to the black female body shape. The paintings serve as a backdrop for the performance; these images are taken from various social media platforms. These portrayed the emphasis on the obsession women have on butt augmentation.
*By Nomshado Lubisi (CHS communications & marketing)