Due to cancelled graduation ceremonies as part of Unisa's COVID-19 emergency measures, Sonke Nkwane, a Unisa BCom Industrial Psychology graduate from the College of Economic and Management Sciences, was inspired to organise her own "home graduation moment" to commemorate an academic accomplishment even without the formal occasion that all students relish.
"Before the advent of the COVID-19 crisis my loved ones and I greatly looked forward to celebrating this milestone," says Nkwane. "In my mind's eye I could already see myself walking across the stage in the ZK Matthews Hall to collect my certificate. Imagine, then, my disappointment when I learnt that this was not to be. I felt as if I needed closure to understand that I am now closing this chapter of my life, so I can continue with other things."
Not one to take things lying down, Nkwane, a self-taught makeup artist and beauty salon owner, dressed up in her academic finery on the big day and celebrated joyously at home with her family. Nimbly leaping across the social distance required in these bleak times, she shared the special occasion in words and images with her followers in the Twitterverse.
That this positive spirit and enthusiasm are core characteristics is evident as Nkwane describes her future plans. "I hope to help companies manage employee relations and resolve co-worker conflicts with the degree I obtained from Unisa," she says. "I want to help organisations improve workplace morale and employee satisfaction, and use my expertise to assist with the hiring and promotion of employees. I plan to attain a master's degree in the next five years and then I will take it from there."
Asked to share a message with other students, Nkwane says: "Don't go around saying the world owes you a living. You owe it to yourself. Never think you can study a complete syllabus the moment you receive your study, much as you would eat a bowl of cereal in one sitting. You need to eat a little bit every day, and chew thoroughly."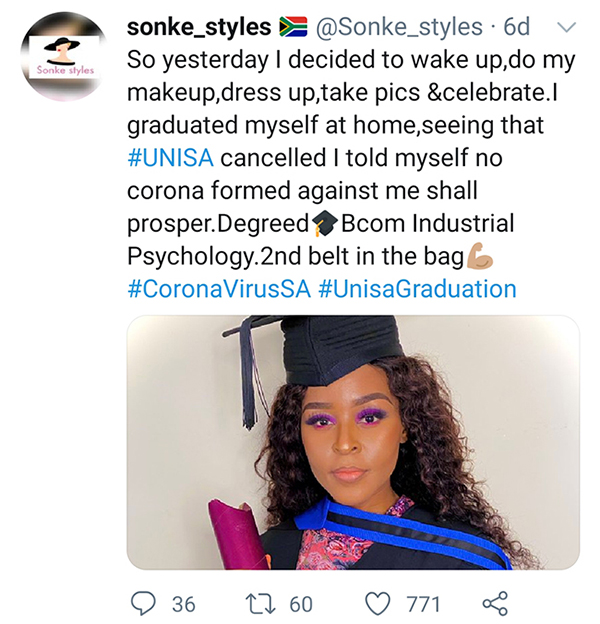 * By Lesego Ravhudzulo, Journalist, Department of Institutional Advancement