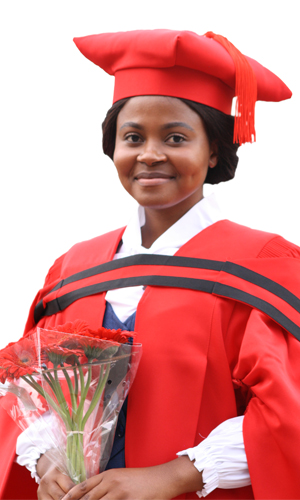 A major mover and shaker in the South African legal fraternity, Dr Tshepiso Scott is putting her Unisa qualification to practical use in the field of consumer protection law. At age 28 this qualified corporate and commercial attorney, reader, explorer and gym lover holds a Unisa Doctor of Laws degree and is the managing director of TumboScott Incorporated, a law firm she established and co-founded in 2017 while completing her thesis.
Scott's doctoral thesis was entitled The realisation of rights in terms of the Consumer Protection Act 68 of 2008, and she considers herself a practical academic as her work is relevant to what consumers experience on a daily basis.
Concerning the impact of the Consumer Protection Act (CPA) on the ordinary person, Scott has this to say: 'The CPA is a far-reaching statute that affords consumers various important rights. Moreover, what many people are not aware of is that the CPA extends its protection to juristic persons, such as companies that fall within its threshold in the region of R2m turnover annually or in asset value. This essentially means that small businesses and individuals legally have much more bargaining power than they did in the past.
Scott's thesis places her in a position to understand what it takes to be adequately protected by this specialised legal framework. 'This statutorily backed bargaining power only carries weight if the people in the street fully understand their rights and how to enforce them,' she says. 'After all, what is the true value of rights if they cannot be fully realised?"
Dr Scott concedes that the consumer protection law framework is not simple and must be revised through a combination of both legislative amendments. 'This should include the implementation of practical steps by the consumer law enforcement bodies concerned, if the CPA is to have any meaningful impact on day to day commercial engagements.'
Asked if the true value of consumer rights been fully realised in South Africa, Scott says that this is not entirely the case at this stage. 'The lack of clarity in the hierarchy to follow when enforcing ones' rights is one of the challenges that holds back the consumer from truly realising their statutorily enshrined rights. The CPA only came into force on 1 April 2011, meaning that the current specialised consumer protection law framework has only been in effect for less than a decade. The importance of the protection of these rights rests on the fact that the consumer is always at the back foot when dealing with suppliers, manufacturers and retailers. It is thus critical that a statute such as the CPA becomes a staying force in order to level the playing fields.'
Scott says that she would definitely encourage others interested in the legal profession to follow in her footsteps. 'It is an important field because it affects our everyday lives in real ways. The various specialised fields also mean that there are abundant opportunities out there.'