Research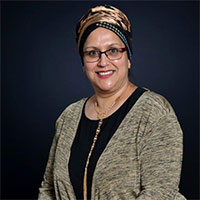 Prof Hasina Ebrahim was named first runner-up in the category Distinguished Woman Scientist - Humanities and Social Sciences at the recent Women in Science Awards (WISA).
This year, the theme of the awards was leveraging science, technology and innovation to enhance inclusive growth and development. The ceremony was hosted and sponsored by the Minister of Science and Technology, Mmamoloko Kubayi-Ngubane, in Polokwane
Ebrahim is attached to the Department of Early Childhood Education and is also the UNESCO Co-chair in Early Education Care and Development.
Her nomination for the award reads as follows:
"Prof HB Ebrahim is one of the very few black NRF rated women researchers who is a full professor and the UNESCO Co-Chair in Early Childhood Education, Care and Development. She is indeed a researcher of high standing as noted by her peers. Prof Ebrahim is internationally recognised as one of the new generation critical scholars in Africa. She serves as the sector editor of the South African Journal of Childhood Education and is serving on editorial boards of international journals in early childhood. She has 30 peer-reviewed publications in varied outlets including journal articles, book chapters and two research monographs. She is a sought after researcher and has several international keynote addresses to her name.
Her research has enabled her to make pioneering contributions to the development of curricula and teacher education policies for the early years. She is taking the lead in a national multi-stakeholder project for development of the first teacher education standards for the early childhood education to unite a fragmentary field. This is leading to South African universities adopting common standards to guide qualification development for the early years. In keeping with her quest to use research to influence practice, she is leading a project involving 20 teacher educators to develop a scholarly text on curriculum, pedagogy and assessment for the vantage point of contextualisation, complexity and the thinking teacher."