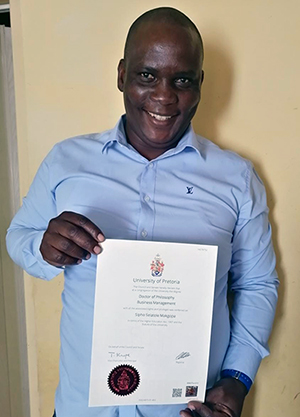 Unisa invests heavily in the research interests of its permanent specialist and support professional employees, something that not all universities do.
All these employees belong to the Professional Research Group (PRG), under the Research Support Directorate, with access to several benefits. The Professional Research Committee (PRC) administers all PRG contributions, in line with the institutional research agenda.
Dr Sipho Makgopa is a PRG member who has struck academic gold, as he holds two master's degrees, and managed to complete his PhD studies through the support services provided by the PRC.

Fruits of humble beginnings
"Growing up in a dusty, rural village in Limpopo, I am agitated with the way my career has evolved," reflects Makgopa. His career progression has been quite a journey, from being a minibus driver - transporting kids to a day-care centre - to then becoming a lecturer in marketing at a further education and training (FET) college and, years later, being appointed as a lecturer in the College of Economic and Management Sciences (CEMS) at Unisa, and eventually promoted to a senior lecturer position. He now serves as the Curriculum Learning and Development Specialist in the Directorate of Curriculum Development and Transformation. "My career started from humble beginnings and is now progressing into success story," he said.
In early 2020, Makgopa successfully completed a PhD in Business Management within a record time of three years. The topic of his PhD thesis is The influence of service innovation practices on business performance. He researched this subject because of its relevance to many businesses and organisations, which strive to remain innovative as a result of competition pressures, globalisation, frequent technological changes, market turbulence and a need to improve business performance.
His goal for the next 10 months is to engage in further research in order to strengthen his application for a National Research Foundation (NRF) rating, "allocated based on a researcher's recent research outputs and impact as perceived by international peer reviewers".

Unisa, a research enabler for professional staff
"I feel honoured to be part of Unisa; I have personally benefited during my studies through the study assistance bursary and the Master's and Doctoral Support Programme (MDSP)," said Makgopa. He commends Unisa for its flexibility, which enabled him to pursue his studies and to complete them swiftly.
A visionary of success, Makgopa, made enquiries about the procedure to apply for the research development (RD) leave and he was directed to the PRC. He said the application process was smooth, as he had all the necessary documents to support the approval of his application. "As a member of PRG, I have benefited a lot from its support services; one of these was the opportunity to go on RD leave, for six months, to finalise my PhD studies," he said.
Makgopa managed to complete two master's degrees (MPhil, MCom) and a PhD, back to back, while also being a full-time employee. In this regard, Makgopa said that he was able to achieve this "through hard work, efficient time management, an extreme drive to learn, and having a strong mentality to accept objective criticism from supervisors".
In the past four years, he has published 10 research articles with international journals, and he is currently working on a few articles, derived from research on his PhD thesis, which he also wants to have published.

Paying it forward
Makgopa wants to start a foundation, a charitable organisation for the disadvantaged, which will provide support to students through mentorship and financial aid to access tertiary education. He also wants to continue with supervision of master's students and to co-supervise at least two doctoral students to a successful completion in the next 48 months.
To PRG members, who are busy with their master's or doctoral studies, as a word of encouragement, Makgopa had this to say: "Do not underestimate yourself, it is possible to achieve academic excellence, even if it may appear to be impossible. All you need is commitment, good time management, and courage."
* By Mpho Moloele, PR and Communications Assistant, Department of Research, Innovation and Commercialisation