To round off women's month, Unisa, in partnership with South African Women in Dialogue (SAWID) and UN Women, held their annual dialogue on 26 August 2020 in a high-profile virtual event that saw the attendance and participation of women like Dr Phumzile Mlambo-Ngcuka, United Nations Under-Secretary-General and Executive Director of UN Women, and Dr Natalia Kanem, United Nations Population Fund Executive Director, among many other prominent women.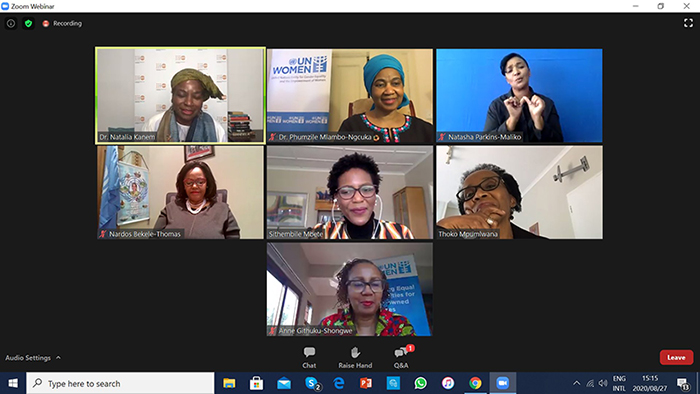 SAWID is an independent South African Women's platform committed to listen to women's voices as well as the improvement of women around the country. The non-profit organisation serves to engage with various institutions including national government, the private sector and civil society on behalf of women, to shape community, provincial and continental agendas.
This year's dialogue was centred around responsive and well-resourced gendered interventions. The dialogue provided a platform for women to collaborate and explore caring and inclusive solutions to the many and deepening challenges women and children are facing because of the Covid-19 pandemic.
In her welcome address, Dr Marcia Socikwa, Unisa's Vice-Principal of Operations and Facilities, spoke about the possibility of women creating a new circular economy for the implementation of the African Women's Agenda. Socikwa spoke extensively on the inequalities that the Covid-19 pandemic has brought forth in society. She emphasised the need for women to focus on strategic interventions to uplift and empower fellow women. She illustrated the buying power that, in general, women have in society, and how they can use that power to empower businesses that look after women's best interests in society.
In her purpose of the dialogue, Thoko Mpumlwana, the Chair of the SAWID Trust, agreed with Socikwa. "We as women, are the ones we've been waiting for," she said. Mpumlwana emphasised that the women of South Africa need to stand together for participation on issues of national, regional, continental and international importance. "Through our dialogues, we should aim to establish a common agenda for the development of women and to ensure that women's views are taken into consideration whenever decisions are taken on all issues that impact on our lives," she emphasised.
SAWID was first convened in July 2003 to create a platform for South African women, united in their diversity, and inspired by the spirit of ubuntu and the values of self-reliance, integrity and tolerance, to make a difference and to propose more inclusive and sustainable solutions to the pressing challenges confronting women and their families in the country and continent.
Mpumlwana added that since its inception, SAWID aligned its vision and actions to larger processes taking place within the African continent, including the African Union (AU) and the New Economic Plan for Africa's Development (NEPAD).
During her keynote address, Mlambo-Ngcuka spoke about generation equality, explaining that this is a subject matter and a cause of action close and dear to her heart. "Generation equality is about realising women's rights for an equal future," she said.
Mlambo-Ngcuka explained that the Generation Equality campaign demands equal pay, equal sharing of unpaid care and domestic work, an end to sexual harassment and all forms of violence against women and girls, health-care services that respond to their needs, and their equal participation in political life and decision-making in all areas of life.
UN Women stands at the centre of mobilising governments and civil societies to keep the promises of generation equality to all of society. "In everything we do, we are committed to making gender equality a lived reality for all women and girls who have historically been marginalised and who have waited long enough. This is a vision of a more prosperous, peaceful and fair world that is ultimately better for both women and men alike," explained Mlambo Ngcuka.
Like Mpumlwana, Mlambo Ngcuka agreed that it is in the hands of women to strengthen partnerships and forge responsive and resourced gendered interventions, thus emphasising the point made that "we, (women) are the ones we have been waiting for".
Various sectors and organisations were represented at the dialogue, including faith-based organisations, NGOs and government sectors. One specific organisation that stood out was the Cape Flats Women's Movement, which was represented by Caroline Peters, coordinator of the movement. The movement aims to uphold rights and advocate against gender-based violence. During the lockdown, specifically, Peters explained that she had been inundated by calls for help by victims of domestic abuse using their code words which are meant to keep the abuser unsuspecting of a cry for help. "Because of the lockdown, many of these women were unable to leave their homes. They were spending extended periods of time indoors with their abusers and were at great risk of violence," she said.
Sharing with women at the gathering, Peters explained that she saw a campaign from the UK where victims of violence would use code words in text messages, a strategy which she adopted in her community. Using their code, Peters said: "We engage in conversation with a victim to get as much information as possible so that we are able to call authorities for intervention." Peters also explained they get creative to use various code words so that perpetrators remain unsuspecting, a strategy which has worked for women in her community.
Peters' movement was a perfect fit for the dialogue theme - responsive and well-resourced gendered interventions - and equally a point in case serving evident to the dialogue's mantra: "We are the ones we have been waiting for."
The dialogue was well attended and sparked meaningful engagements and conversations among women. By the end of the dialogue, women were revived in their resolve to continue being agents of change in their communities and in the roles they play in different aspects of their lives.
* By Tshimangadzo Mphaphuli, Senior Journalist, Department of Institutional Advancement