Unisa's College of Accounting Sciences (CAS) hosted the first of its kind seminar on unpacking the accounting profession on 4 December 2019. The World Bank Report commissioned in 2013 by the then Minister of Finance identified that the lack of supervision of all the professional accounting bodies by a regulatory institution hindered effective promotion of different qualifications to prospective accountants, training institutions and employers.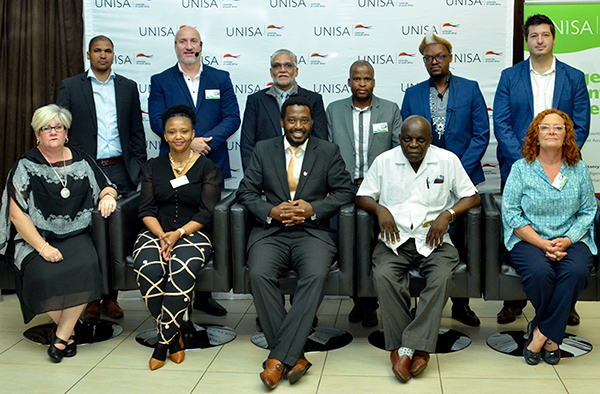 CAS recognises that South Africa has 12 professional accounting bodies, each addressing a different objective in the accounting sphere. There is general consensus for the need of professional accountants to address the country's growth objective; however, there's no consolidated plan as to how the shortage will be addressed by the different professional bodies.
Organised through the office of the acting Deputy Executive Dean, Mandisa Gandela, the event aimed to arouse discussion on the different professional qualifications available within the accounting profession and the challenges faced by professional bodies in positioning their qualifications with students and prospective employers. Most importantly CAS endeavoured to determine how academic institutions could support professional bodies through its diversification in its qualification matrix.
The seminar was well attended by the university community, industry, students and different professional bodies, and endorsed by the Principal and Vice-Chancellor through his representative, Prof Harry Nengwekhulu, Director of the School of Governance, who warmly welcomed all those that were present.
Nicolaas van Wyk, CEO of the South African Institute for Business Accountants (SAIBA), honoured the seminar with his presence as keynote speaker. He was supported by a panel of experts within the accounting fraternity:
Prof Rashied Small - Thought Leadership Executive, South African Institute of Professional Accountants (SAIPA)
Russel Morena - CEO, Southern African Institute of Government Auditors (SAIGA)
Mandi Olivier - Senior Executive: Pre-Qualification Professional Development, South African Institute of Chartered Accountants (SAICA)
Ashley Dicken - President, Association for the Advancement of Black Accountants in Southern Africa (ABASA)
Through the facilitation of the programme director, Khaya Sithole, the overwhelming consensus reached amongst the panel was that there should be a single body that regulates all professional bodies within the accounting fraternity that will open up the opportunities for other professional accounting bodies to grow.
The seminar was a flagship event that closed off the 2019 year for CAS on a very high note. The university can expect to see more of such seminars that deliberate on topical issues coming from the College of Accounting Sciences in 2020 and beyond.
* Submitted by Mandisa Gandela CA(SA), Acting Deputy Executive Dean: College of Accounting Sciences