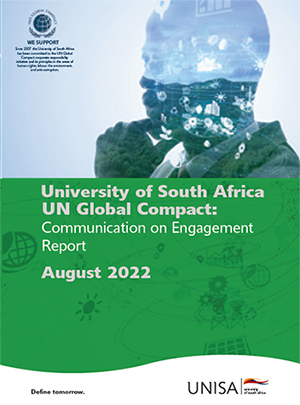 Unisa, a signatory to the United Nation's Global Compact (UNGC), has published its sixth Communication on Engagement (COE) Report, which reaffirms the commitment of the institution to incorporate UNGC principles in its strategy, culture and day-to-day operations. Unisa is also committed to working towards the achievement of the United Nation's Sustainable Development Goals (SDGs), which are critical to addressing economic, social and environmental sustainability in a balanced and integrated manner. This report shares Unisa's progress with incorporating sustainability in its very DNA.
Since its last submission, Unisa has continued to undertake significant steps to live up to its commitment to the UNGC. This is remarkable given that 2020–2021 (the period under review) was dominated by the Covid-19 pandemic and wide-ranging disruptions. Some of the most significant achievements include the following:
Actions were taken to promote environmental responsibility. For example, energy-saving initiatives were undertaken, and waste recycling was increased.
Corruption was prevented by training employees and students to operate with transparency and integrity, and to stop any bribery attempts.
Unisa introduced the new Policy on remote working, Talent management policy and Revised ICT governance framework.
New and important information on the active role played by Unisa researchers in advancing the SDGs was curated.
For the first time since 2007, the report was reviewed by the Internal Audit Department to ensure that it compiled with UNGC principles. The report received a clean audit and was published on the UNGC website. The report will also be distributed nationally to the Department of Higher Education and Training and Department of International Relations and Cooperation.

About Unisa's journey with the UNGC
The UNGC is a voluntary corporate sustainability initiative that aims to mobilise a global movement of sustainable businesses and stakeholders to build the world we desire.
In 2007, Unisa became the first South African university to join the UNGC. By joining, the university undertook to produce and submit a Communication on Engagement (COE) Report biannually (every second year). The COEs of UNGC signatories assess their progress against the Ten Principles of the Global Compact and are disseminated to all stakeholders.
Unisa's report demonstrates a serious commitment to ensure that the principles permeate its leadership, policies and practices relating to human rights, labour standards, the environment and anti-corruption. Through their COEs, Unisa and other UNGC signatories reaffirm their commitment to
a) create a culture of integrity across the organisation
b) support employee and student wellbeing
c) enforce and enhance sustainability through research, teaching, innovation and community engagements
d) create diversity and inclusion
e) set ambitious carbon reduction targets
Unisa also promotes engagement with the UN's Sustainable Development Goals (SDGs) across its research, teaching and innovation.
Find out more about the UNGC and UN Sustainable Development Goals (SDGs).
* By Dr Anicia Malebajoa Maoela, Senior Researcher: Exxaro Chair in Climate and Sustainability Transitions/Sustainability Office