For the 2020-21 list of the CWUR World University Rankings, 20 000 higher education institutions were graded, with only the top 2 000 making the cut in the final rankings.

Thirteen South African universities made it onto the list, but while 11 of those slipped down the rankings, Unisa and the University of Johannesburg improved their positioning in the last year. Unisa rose by eight places, making it 1 409 in the world.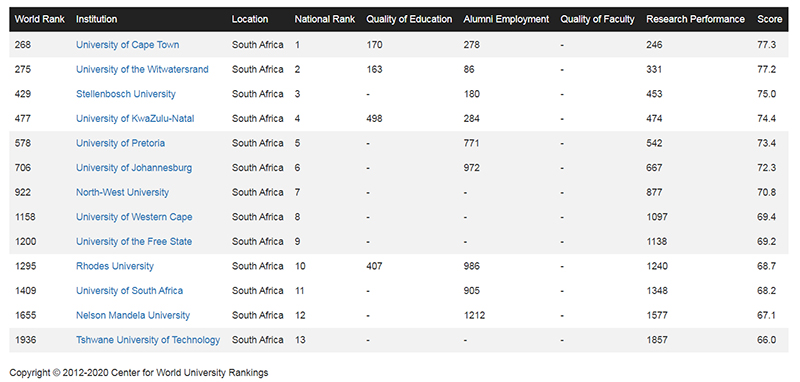 Without relying on surveys and university data submissions, CWUR rates universities on seven factors: quality of teaching, alumni employment, quality of faculty, research output, high-quality publications, influence and citations.
Unisa rated well on alumni employment, at 905, and on research output, at 1348.
For the ninth year in a row, Harvard has been ranked as the top global university by the CWUR. This year, the global top 10 is as follows (with last year's rankings in parentheses):
Harvard University (1)
Massachusetts Institute of Technology (2)
Stanford University (3)
University of Cambridge (4)
University of Oxford (5)
Columbia University (6)
Princeton University (7)
University of Pennsylvania (9)
University of Chicago (10)
Yale University (12)
You can see the complete rankings here.
CWUR is a leading consulting organisation providing policy advice, strategic insights and consulting services to governments and universities to improve educational and research outcomes. It publishes authoritative global university rankings, known for objectivity, transparency and consistency, which are trusted by students, academics, university administrators and governments from around the world.
* Compiled by Sharon Farrell, Editor, Department of Institutional Advancement