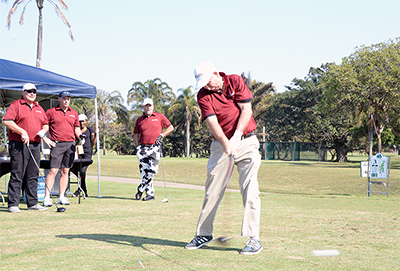 The Unisa Shaping Futures Golf Challenge held in KwaZulu-Natal proved to be a great success thanks to the golfers who believe in the power and significance of education, especially in furthering the development goals of the country and of the continent.
Players who are titans of industry converged onto the Mount Edgecombe Country Club on the breezy day of 20 July 2018 to share in Unisa's 145 celebrations and brought with them a mix of golf expertise to play the Better Ball Stableford—the style of play of the challenge.
Their prize-giving dinner addressed Unisa's organisational developments, which included the importance of creating a self-sustaining funding mechanism to support the Unisa student and ensure access to education and success in their studies, which can only occur when the Unisa student exits the system with a certificate in hand.
Professor Khehla Ndlovu, Vice-Principal of Strategy, Risk, and Advisory Services put this more into context when he mentioned during his address how for 14-and-a-half decades, Unisa had been able to provide outstanding quality education to people around the globe.
"This worthy milestone was celebrated on 26 June 2018, which brings us here to tender our gratitude as Unisa to everyone who has been supporting the work of the university," he said. He mentioned that the golf challenge was the fifth to be held in KZN, "and that could not have been possible without the continuous support and loyalty of the golfers".
Many strides have also been taken to ensure that partnerships formed in the province are managed and honoured. "Unisa has thus far formed partnerships with technical and vocational education and training (TVET) colleges in the province with a particular focus on the development of work skills," said Ndlovu.
Bongani Mdletshe from the TVET Colleges Governors' Council said they are tapping into the work of the university, which is in totality a preparation of students for the world of work. "Industry needs certain skills and the two organisations have partnered to develop the skills of people to be able to participate in the fast paced economy."
The winners of the 2018 Unisa KwaZulu-Natal Shaping Futures Golf Challenge are:
Shaka Langa and Victor Phungula
Roland Pillay and Mathew Carr
Ntokozo Mthembi and Siya Mgobhozi
Themba Buthelezi and Raymond Nzama
Bheki Mbokazi and Senzo Mhlungu
Glenda Austin and Jimmy Smith
Best individual player
Victor Phungula
*By Busisiwe Mahlangu