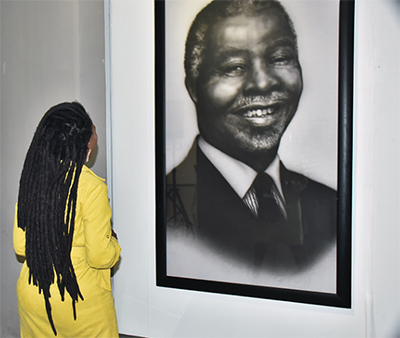 If you haven't yet visited the Unisa Art Gallery to view Dialogue and Conversation, an exhibition that uses artwork and other artefacts to display the life, passion and contributions of former President Thabo Mbeki and Zanele Mbeki, you are still in time. The exhibition, launched on 17 May 2019, is a collaborative effort between the Thabo Mbeki Presidential Library (TMPL), the Unisa Art Gallery and the Thabo Mbeki African Leadership Institute (TMALI). It formed part of the celebrations of the 10th year of the annual Thabo Mbeki Africa Day Lecture series.
The material on display touches on a variety of issues to which the Mbekis dedicated decades of their lives, and which they continue to support, such as
the upliftment of women and visibility of gender issues
the improvement of the quality of life and status of children, youth and people living with disabilities
anti-apartheid struggles
involvement in commerce, sport, arts and culture
social issues emanating from the legacies of apartheid
continued social upliftment initiatives following South Africa's transition to democracy
the strengthening of regional ties through organisations such as the AU, SADC, and NEPAD
the undertaking of interventions towards regional stability, including peace efforts in the DRC and Cote d'Ivoire
Speaking at the exhibition launch, Dr Britta Zawada, Deputy Executive Dean of the College of Human Sciences, welcomed the collaborative efforts and invited guests to reflect upon the meaning of the artworks, letters and photographs that showcase the active engagement of the former presidential couple in dialogue and conversation towards South Africa's liberation and Africa's renaissance, peace and prosperity.
"We have to ask ourselves, what are we contributing?" Acting Executive Director of the Unisa Library, Segametsi Molawa, reminded guests that "this exhibition is about the preservation of memories. We all want to make sure that we do not forget our past as we carve a path towards a tomorrow that uplifts our people's quality of life".


The exhibition is open for viewing until 12 June 2019 at the Unisa Art Gallery (10:00 to 16:00, Monday to Friday).
The keynote address was delivered by Lebogang Chaka, who is the Commonwealth Business Women Patron for Africa. She currently serves on the advisory board of the African Women in Energy and Power, and was the inaugural chair of the Thabo Mbeki Alumni Forum. She urged guests to not only work towards South Africa's quality of life but that of the rest of the African continent too. In her work, she has travelled to 19 African countries in the effort to understand the needs of the continent as well as the principles of African Renaissance.
In response to the keynote address, the CEO of the Thabo Mbeki Foundation, Max Boqwana, highlighted the need for Africans to reclaim their identity, stating that "so much of our history and memories can be found in art and other artefacts".
* By Natalia Molebatsi, Marketing Coordinator, Unisa Library