Delivering a powerful and candid keynote address, the incoming chair of Anglo American South Africa's management board, Nolitha Fakude, explored the role of women in the country's economy at a high-level dialogue organised by Unisa in partnership with South African Women in Dialogue (SAWID) and United Nations Women (UN Women), which was held on 7 August 2019. The theme of the event was Supporting women entrepreneurs for sustainable economic development.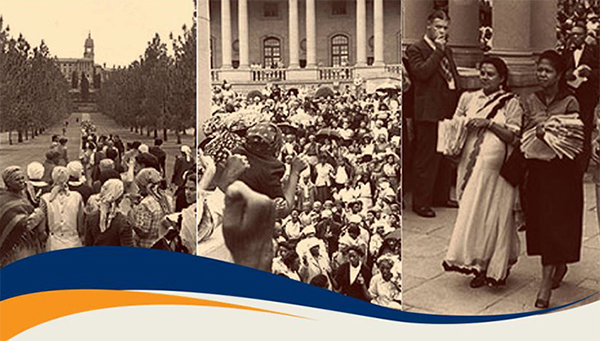 "Gender economic transformation requires both men and women to work together," Fakude said, advocating for inclusivity in the current economic system. She added that power is one of the toolkits needed for women to move society forward, even though they have had an interesting relationship with power over the years.
In her presentation, Fakude painted a grim picture of the economic gaps and inequalities experienced by women in and outside the boardroom. She pointed out the misrepresentation of women leaders in boardrooms. "Leaders should create an enabling environment for women to be well represented in leadership roles," she said.
Fakude expressed her firm belief that flexible working hours for women can assist to cure gender discrimination experienced mostly by working mothers. "Although the environment in South Africa is not enabling, men should participate in parenting responsibilities for diversity and inclusion to be attained," she said. "Leaders should parent their children publicly and freely to make their subordinates comfortable around issues of parenthood."
Sharing her personal journey as a leader, Fakude stated that men in leadership roles need to openly acknowledge how they feel about being led by women. "This is one of the big issues and a debatable topic that needs serious attention to make sure that we are all in the same picture," she said. "Both white and black men need to reflect on these issues expressed to ensure that equality is attained."

Transformation and inclusivity for everyone
Exploring sexual harassment at the workplace, Fakude pointed out the challenges that hinders women from progressing in work spaces. "There's men who ask their female colleagues for special favours. Sexual harassment is worse than corruption," she said. "We need to stand together as a nation to support our colleagues as we journey to transformation and inclusivity for all," she said.
Fakude said that leaders in business need to push gender transformation relentlessly. "Only when we openly acknowledge what we deal with as corporate leaders, we know that the big issue of unemployment equity shall be addressed," she said
Procurement is a huge area of opportunity according to Fakude. She explained that most companies are more compliant rather than moving beyond compliance.
In conclusion, Fakude suggested that counselling and faith-based organisations should be considered as they play a crucial role in reaching out to communities and can assist in identifying challenges faced by women in general to bring solution that will unblock and unlock economic powers.

Participation of women in the economy
In his welcome address, Prof Mandla Makhanya, Unisa's Principal and Vice-Chancellor (VC), said there has never been a more urgent and present need for African women to mobilise, organise and put in place mechanisms and structures that will unleash entrepreneurial potential. He said this will change the fortunes of our continent and society for the better.
The VC said: "What is required in Africa and in other developing and emerging economies are programmes of self-empowerment that will ensure self-reliance and security."
The VC said that Unisa is deeply committed to the education of the country's people, young and old. "We believe that education addresses contentious issues while making progress in applying an African-centric model," he said. "Our research engages communities for us to work together in helping society to be equal partners in development."

Cultivating innovative forms of economic activities
Discussing the influence of women in the economic participation, the VC said stokvels flourished because of women. "Even in poverty women took pride in contributing to the success of their families. Stokvels are quintessentially African, an ancient practice driven and promoted by women, hence we need to ensure that women are supported in the economy."

Solutions to imbalance scourge proposed
Concurring with the keynote speaker about economic freedom, Deputy Minister in the Presidency, Thembi Siweya, agreed that women have an imperative role to play to help families out of poverty. To promote gender equality and women's empowerment, Siweya said more needs to be done to ensure emancipation and economic freedom for all.
Siweya further said that it is important for both public and private sector institutions to support women's initiatives in removing potential economic and social inhibitors such as access to land, funding, technology, mentorship, training and gender-based violence. "These elements continue to impede women's full participation in the mainstream economy," she said. "We have to start by ensuring that women have access to land and are capacitated to turn it into viable business."
She emphasised that women entrepreneurs cannot grow in a patriarchal environment, where they are viewed as inferior, paid less compared to their male counterparts and subjected to sexual violations and all sorts of abuse. "It is upon us, men and women, to change this reality and build a South Africa in which all are and feel safe," she concluded
This year's Unisa-SAWID-UN Women celebratory conversations delved deep into economic transformation and discussed possible solutions to the economic and other inequalities experienced by women.
* By Lesego Ravhudzulo, Journalist, Department of Institutional Advancement