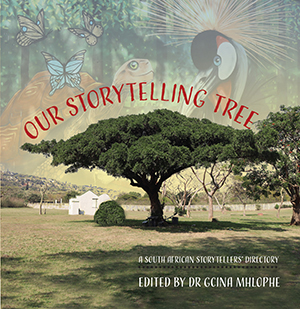 The Gcinamasiko Arts and Heritage Trust (GAHT) collaborated with Unisa's Library and Information Services to launch Our Storytelling Tree: A South African Storytellers' Directory on 28 May 2021.
The book, edited by the internationally acclaimed Dr Gcina Mhlophe, award-winning storyteller and cultural activist, centres the power of storytelling as Africa's long-lasting and rich heritage of orature.
Mhlophe, who was recently honoured with a lifetime Achievement Award by the South African Film and Television Awards (SAFTA), facilitated the programme. She thanked the Library and Information Services for their partnership in promoting Africa's ancestral knowledge through stories.
"Spirit is everywhere in our work, it comes from our African oral traditions," said Mhlophe in her opening. She proceeded to commend the book's 38 contributors.
In her opening address, Library and Information Services Executive Director, Dr Daisy Selematsela, welcomed the partnership with GAHT, stating that the library will be collaborating with Mhlophe on other cultural events going forward. Selematsela also highlighted the importance of decolonising library collections and said that Mhlophe's books and those by other African authors contribute to the university's decolonial agenda.
This book was launched during Africa Month to celebrate Africa's oral heritage and the contribution made by the 38 contributors to the arts and culture sector. The birthing of this book was made possible by the generous support of the Department of Sports, Arts and Culture (DSAC). In this regard, the keynote address was delivered by Zanele Ndima, Acting Chief Director: National Language Services at the DSAC, on behalf of Minister Nathi Mthethwa.
"We want to know who we are, and therefore the government is behind this book, because we can learn so much from our storytellers, especially those who are women," said Ndima. "I am happy to see that most of the book's contributors are women." She added that the government supports the efforts of storytellers to entrench a culture of reading and writing. Mhlophe was commended for her lifetime commitment to making storytelling come alive. Representing the 38 contributors in a vibrant and thought-provoking panel discussion were Dr Nompucuko Zakaza, a storyteller and activist; Dr Nomusa Mdlalose, a folklorist, storyteller and strategist; Dr Sindiwe Magona, author and storyteller extraordinaire; and Philippa Namutebi Kabali Kagwa, storyteller, poet and author. Each contributor spoke about their journey as storytellers and cultural ambassadors, as well as their current projects. The book makes their work and cultural services accessible to the larger public. In this way, an archive is created that makes possible the preservation of South Africa's oral traditions.
On the panel were also cultural activists who wrote messages of support in the book, including Prof Pamela Dube, a literary scholar and Deputy Vice-Chancellor of Student Development at the University of the Western Cape, who wrote the book's foreword, and Dr Elinor Sisulu, a writer and founder of Puku, who stated that "we need to know and appreciate our storytellers and this directory will help us to do just that".
Another message of support came from Eugene Skeef, a poet, storyteller and musician based in London. "The ancient art of storytelling is the universal inheritance of humanity," he said. "Gcinamasiko Arts and Heritage possess this gift and uses it to inspire, enchant and educate communities who drink from the nourishing river of their creative flow."
The event was hosted virtually on Zoom and broadcast live on the Gcinamasiko Arts and Heritage Facebook page, where it is available for viewing.
Click here to order the book on the GAHT website.
* By Natalia Molebatsi, Marketing Coordinator, Unisa Library and Information Services