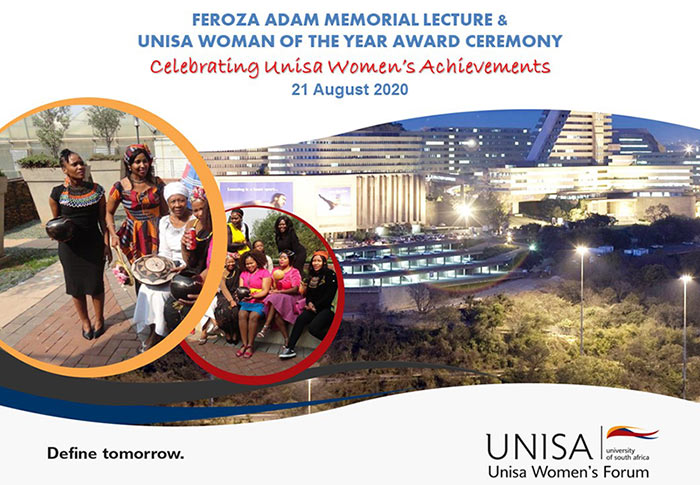 The annual Feroza Adam Memorial Lecture and Unisa Woman of the Year Awards took place virtually on 21 August 2020. Speaking on the theme of Transformed landscapes: Women in the time of Covid-19 and beyond, Prof Lulama Makhubela, owner and managing director of African Research House, focused on issues affecting women and the higher education (HE) sector amid the pandemic.
Makhubela, who is also a South African Women in Dialogue (SAWID) representative, stated that women from women-headed households, mainly self-employed and without a high school certificate, are likely to face a 73.5% chance of being trapped in poverty. She pointed out that uneducated women in the informal sector face possible exclusion from Covid-19 stimulus packages due to difficult application criteria. Zooming into neglected communities, she raised the issue of rural women with no access to health and proper sanitation.

Pre-existing inequalities more visible
Her reflections noted that lockdown has increased victims of gender-based violence and the ongoing school closures have had a huge impact on women's child rearing burden in formal and informal employment.
According to Makhubela, in the Covid-19 landscape it was explicit that South Africans had lost their identity. "The universities have been pushed to the margins whereas the vulnerabilities in social, political and economic systems amplifying the impacts of the pandemic have been exposed. The historical imbalances and deepening pre-existing inequalities became more visible…When we argue that students should go to class, as a country do we have resources that could have assisted those students?"
In all this, Makhubela emphasised that the role of academia has been muted and diminished. However, she mentioned that relevance is critical in dealing with issues that affect women. "Today as we celebrate women of excellence, it is that excellence that speaks to our challenges. We need to repackage how we engage with our communities as the spirit of Feroza Adam is about reimagining ourselves," she said. "Younger courageous Feroza Adams are needed in academic institutions such as Unisa to change the narrative of transformed landscapes."
And the 2020 winners are Dr Sizakele Danke: Feroza Adam Award - Gender Activism; Johanna Makobela: Enhancing Others' Health and Well-Being; Mamma Lucy Kutu: Community Service; Dr Vuyolwethu Seti-Sonamzi: Transformative Leadership; Pindiwe Seloma: Transformative Leadership; Dr Wendy Phoswa: Significant Achievement; and Tsholofelo Raphela: Courage in Adversity.

Advancing women in leadership and their careers
In his congratulatory message, Prof Mandla Makhanya, Principal and Vice-Chancellor of Unisa, highlighted the capabilities of women, the debilitating prejudices they endure and associated pressures that have reinforced during the pandemic. He said it was with this untenable situation in mind that the university established a division for gender equality in his office. "It serves to send out a clear message that we are serious about tackling the scourge of gender-based violence and prejudice against women in all of its forms," said the VC.
Makhanya said this year's awardees speak to the flourishing initiatives the university has in place to advance women, particularly black women, in leadership and their careers. "Our awardees are women who, in fulfilling their daily responsibilities, have grown as achievers, leaders and as servants of the people. They have demonstrated by dint of their nominations that their peers acknowledge them as leaders and colleagues in the truest sense of the word; serving others and honouring their responsibility to be the best that they can be. They have, and we have, every right to be proud and to celebrate this moment of acknowledgement."
"I am delighted to congratulate both nominees and the winners. May you continue on your paths of excellence. To our winners, well done. We salute and honour you. May you become ever more Unisa women of substance!"


Openly challenging political and societal norms
With that honouring, Makhanya said, is the realisation that it is the women of our world, who keep the wheels oiled and turning. "Unisa women, it is undoubtedly time to recommit more deliberately to building on the amazing achievements and sacrifices of our mothers of the 1956 march, and to emulate the deeds and commitment of the phenomenal Feroza Adam," he concluded.
Chairperson of the Unisa Women's Forum (UWF), Dr Sheila Kumalo concurred: "In Feroza Adam's true spirit, no coronavirus nor national disaster would have discouraged the fight against gender-based violence. Typical of her leadership in resilience, nothing would have halted this meeting where we are reminded of all women of strength who have consistently and openly challenged the political and societal norms."
Prof Nokuthula Mazibuko, head of Unisa's Institute for Gender Studies (IGS), and Brigadier Matshidiso Kgoadi, from the South African Police Service (SAPS), responded to the lecture, drawing attention to broader women's issues.


And the 2020 winners are: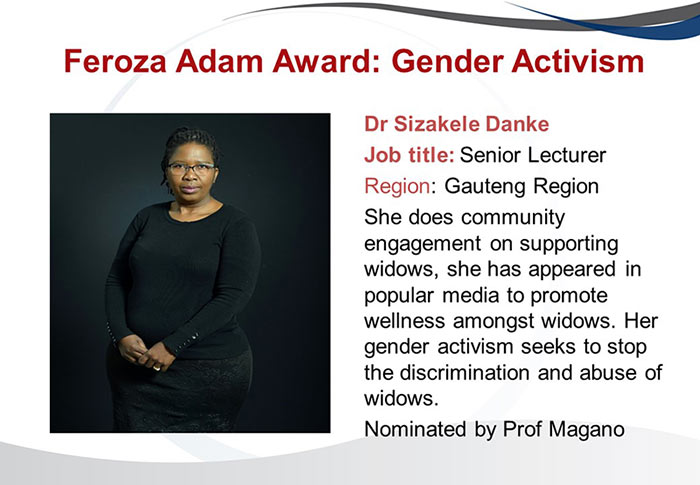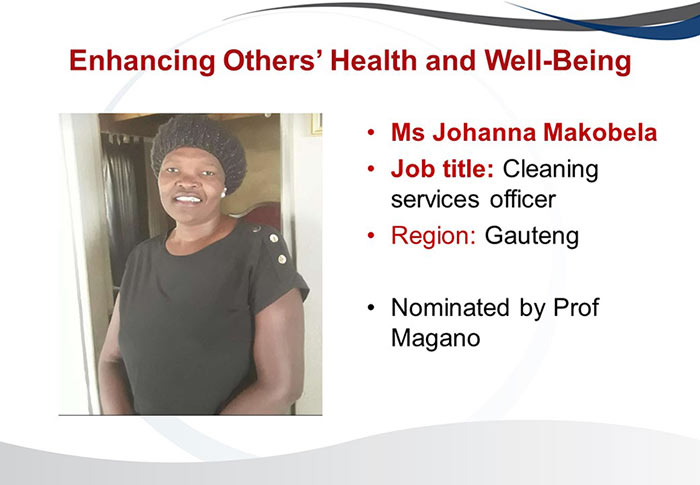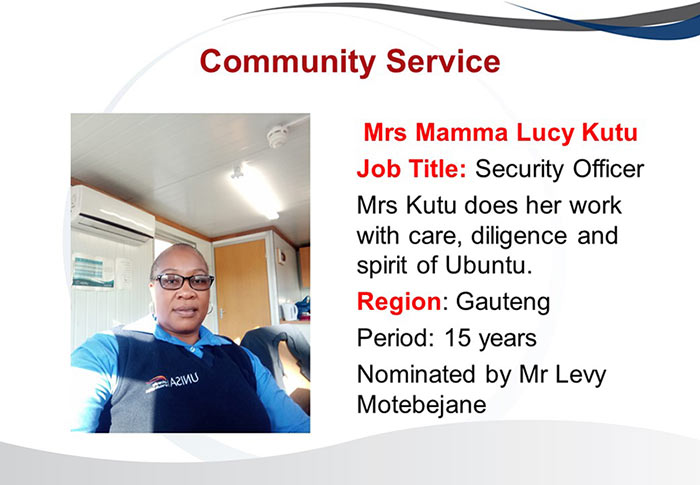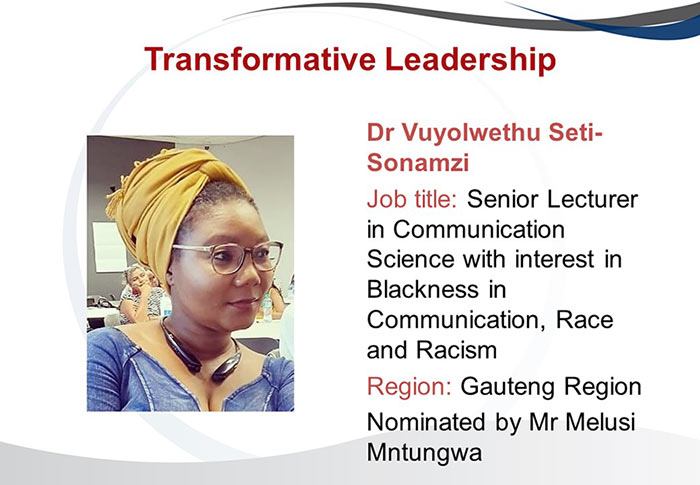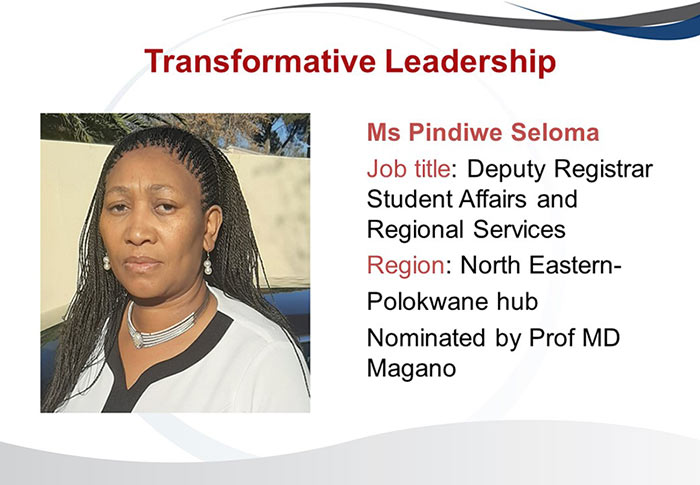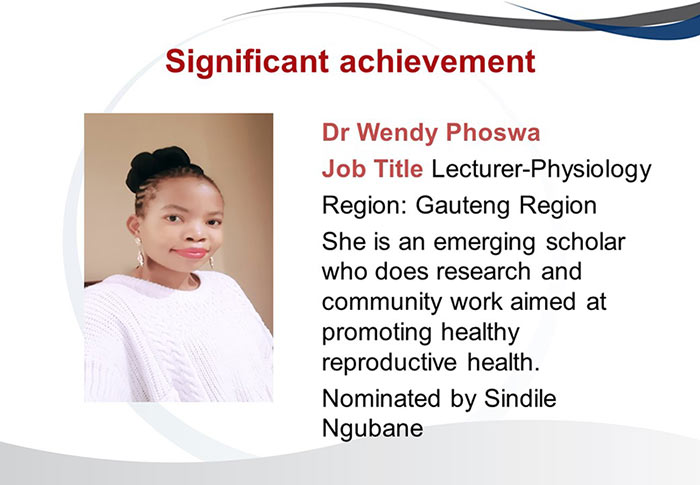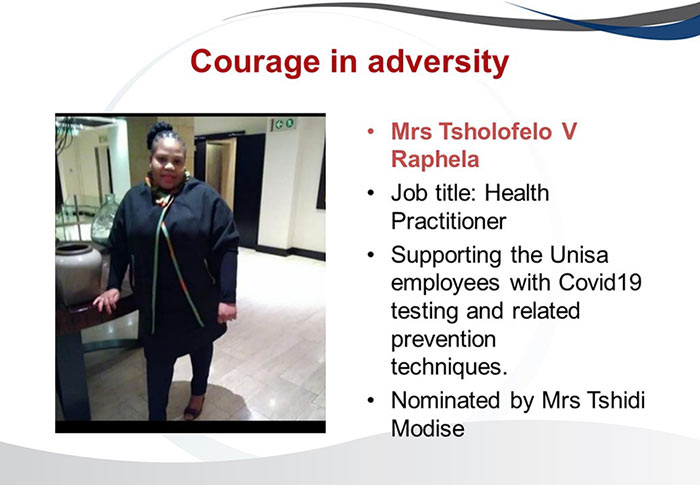 Though the event was not business as usual, one could hear the excitement and ululations from those faceless attendees online, celebrating their sisters' successes.
* By Lesego Ravhudzulo, Journalist, Department of Institutional Advancement