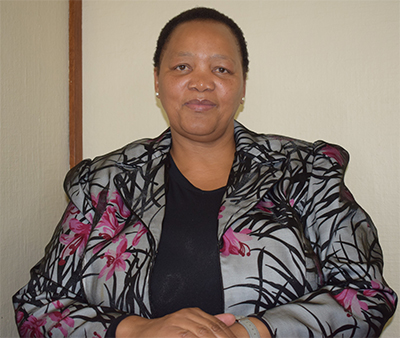 Having joined Unisa in 2011 from the University of KwaZulu-Natal (UKZN), Professor Zethu Nkosi has now been appointed as the Manager for Tuition and Learner Support in the College of Human Sciences. The Health Studies professor lives by this principle, "Do unto others as you would love it done to you" and is motivated by knowing that she is contributing positively in shaping the future of many in South Africa and Africa. "I am especially proud of mentoring young females to be independent, successful and creative thinkers."
Professor Nkosi, who was recently awarded the Forum for Professional Nurse Leaders 2018 leadership award,spoke on her appointment, and shared briefly her academic record which began at Unisa when she obtained her bachelor's degree. She thereafter completed her master's and PhD degrees in Nursing Management at the UKZN. "My research focus is on nurse leadership and staff retention. I have published widely in local and international peer reviewed journals." More than 30 master's degree students and 10 doctoral candidates have graduated due to Professor Nkosi's successful supervision.
She also had an opportunity of working in the Nursing College in the United Arab Emirates and was once an exchange lecturer in Bremen, Germany. "I had an opportunity to present papers in local, regional and international conferences in different cities and countries such as Australia, Botswana, Brazzaville, Canada, Cameroon, Cape Town, Durban, Germany, Ireland, Japan, London, Mauritius, Singapore, Swaziland, Thailand and Atlanta and Chicago in the United States of America."
Outside of academia, Professor Nkosi says she loves reading books and taking long walks, admiring nature in her neighborhood. She also likes visiting the Kruger National Park. Below is more of the interview conducted:
Q: How do you feel about your appointment?
A: I am really excited to be part of the College of Human Sciences. In my profession we always say the nurses are the backbone of the health care system, likewise the Tuition and Learner support portfolio is the pulse of any university. The calls for a decolonised curriculum will allow for creativity from the academia and other stakeholders and my role is to support and encourage any ideas and initiatives in the College.
Q: What are you looking forward to the most in this position?
A: I am looking forward to seeing the increased throughput rates in the CHS, high retention rate of our students, the transformed curriculum and also improved employability of our graduates. For CHS to be a college of excellence I need to partner with academics and provide a supportive and conducive background for all.
Q: What plans do you have in place and what are you hoping to achieve?
A: I have introduced a support structure to deal with students at risk and the learner support portfolio is empowered to deal with the modules at risk. Visibility of staff on myUnisa and monthly sms drives are promoted in the College. Departments are supported to introduce innovative teaching strategies. Identification and sharing of best practices in the College is an ongoing process. Quarterly workshops to promote the integration of community engagement projects with teaching and learning are held. Community engagement projects with similar objectives are clustered together so as to maximize the use of resources, avoid duplication and ensure synergy in the College. At the end of the day success is through team work.
Q: Why is this College important for the country and continent and how can it contribute in alleviating challenges we currently face?
A: In order to respond to the National Developmental Plan and the Sustainable developmental goals the country and the continent needs soldiers that are empowered to deal with the ills of our continent. Humanities and Social sciences provide the framework for students to participate meaningfully in the socio economic activity while contributing to the production of a skilled and knowledgeable society.
* By Rivonia Naidu-Hoffmeester (CHS communications and marketing)