Stupid, slow, and illiterate—these are some of the words children with learning disabilities are described by or stereotyped with. These words not only demoralise them, but they end up believing that they are those words. I am one of those children. I grow up believing that I was a slow learner because I was either not as smart as my classmates or my grades reflected it. However, today I am a 26-year-old dyslexic student, studying a master's degree in psychology at Unisa, and that is why I was approached by the Advocacy and Resource Centre for Students with Disabilities (ARCSWiD) to share my story on a TV programme called Beyond, which plays on SABC 2 at 13:00 on Saturdays. The show is about people living with disabilities, achieving beyond their limitations. They asked to share my story and encourage others like me.
Reading, spelling, and writing were my weakness and limitation growing up. I had two options, believe that I was a slow learner or beat the odds and define my own destiny. One of those options required determination, perseverance, ambition, and, most importantly, a never-give-up attitude. It is obvious which option I chose and am still choosing, even though it was and is not easy.
What kept me going was simple words I learned from watching cartoons and they were: accept it, embrace it, and make it your own. These words were my fuel in my life journey, from primary school to university. Firstly, I had to accept that I had a learning disability; this meant that I had to work harder to learn and understand. Most importantly, I had to accept who I am. Secondly, I had to embrace that I had a learning disability; this meant, I had to acknowledge my strengths and be true to myself. Lastly, I had to make this disability my own; it means that I had to accept that I was unique, different, and special.
Yes, I am special; I am not like my peers. I had my own unique methods of studying, even if it meant writing a word 20 times so that I learned how to spell it, reading out loud syllable by syllable, preparing for an exam way in advance, and now reading a passage three times to fully understand it. I understood that being smart for me meant that I had to bury myself in books and go the extra mile. Who goes an extra mile without facing hardship? At a young age, I was introduced to failure, I never liked failing because it reminded me of my mental handicap. Regardless, failure became my best teacher; when I failed, I would ask myself, "Vanessa, what did you do wrong?", or "Vanessa, what could you have done differently?". Failure taught me to strategise, to learn different methods to achieve one goal. I am that girl who has a plan A, B, C, D…and Z for one solution.
So far, as you are reading what I wrote, it is evident that I beat the odds. I am not only referring to my life journey but my spelling and writing; it is quite good for a dyslexic student, right? Confidence is one of the tools that got me this far. I had to believe in myself and my abilities, I had to focus on my ability and not my disability, because I am more than dyslexia; I am a game-changer, a goal-getter, and a young black woman who is emancipated from mental slavery and who is conscious of her identity. My mission is to give hope and encourage to those who think they are unable to beat the system that was designed to break them. From the latter, it is evident that I have a political background.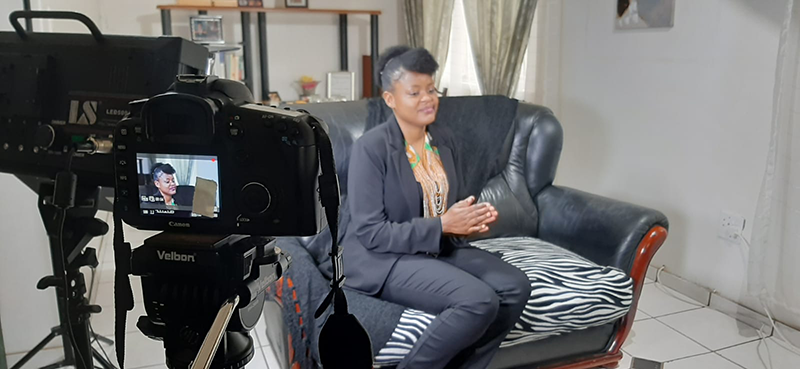 Let me reintroduce myself. Hi, my name is Tshifhiwa Vanessa Mokobedi, a former deputy speaker of the Unisa regional Tshwane parliament, the chairperson of the psychology student association structure, a member of the Unisa Women's Forum, a postgraduate assistant in the psychology department, and the daughter of the most high God. I am who I am today because I never gave up on myself. I fought for my position in this world. I could have only done that because of the burning passion in my heart and the support of the people in my life.
Thank you for taking your time to read my story.
*By Tshifhiwa Vanessa Mokobedi, Postgraduate Assistant, College of Human Sciences