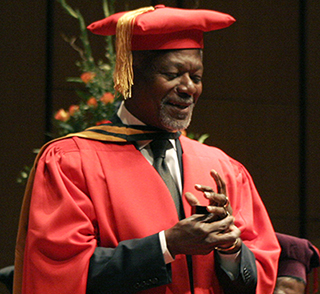 Unisa joins Africa and the world in mourning the passing of Kofi Atta Annan, who died on 18 August 2018. The Secretary General Emeritus of the United Nations, Nobel Peace Laureate, diplomat, heir apparent to the Asante chieftaincy, and member of the Society of Elders was honoured with a Doctorate in Literature and Philosophy by the university on 17 July 2008.
Annan was the seventh Secretary General of the United Nations (UN) and the first African to hold that office. His tenure in office extended from 1997 to 2006 and his achievements while serving in the office of Secretary General are manifold. He will be remembered for his commitment to bring an end to poverty and inequality, improve education, reduce the incidence of HIV/AIDS (which he regarded as "a personal priority"), and protect the environment and humanity from violence. Known for his very strong anti-war feelings, he played a major part in avoiding or solving conflict situations and restoring peace.
Annan's credibility as a statesman is attested to by the many honours and awards bestowed upon him all over the world, including the Nobel Peace Prize in 2001, which he shared with the United Nations "for their work for a better organised and more peaceful world". He was also the recipient of more than 20 honorary degrees and a number of national awards from the US, Europe, Asia, and his home country of Ghana.
In line with the breadth of his humanitarian vision, in his acceptance speech on the occasion of the conferment by Unisa of his honorary doctorate, he emphasised the effects of climate change having a severe impact on vulnerable communities around the world, from jobs to health to food security and peace within and among nations. "While wealthier nations are able to take time to negotiate over targets for reducing carbon emissions, the poor are already suffering," he added.
But despite the magnitude of these challenges, he said, "I stand before you not as a pessimist, but as a stubborn optimist."
We live in a world today which is bound together like never before, with more opportunity to trade, connect and access information than was ever imaginable.
He believed that people were better equipped than any previous generation to confront these global challenges, and that they were obliged to do so. "It is not sustainable for us to live in a world where the impacts of globalisation are so unevenly shared. We need the realisation that global problems—such as the food crisis and climate change—no longer respect national boundaries."
The only way to address and overcome them, he concluded, was for the international community to work together with common vision and commitment.
Unisa extends its deepest condolences to Kofi Annan's family and friends, and mourns with them the passing of an African colossus, humanitarian, and peacemaker.
*By Sharon Farrell