As part of the 2nd Unisa Open Distance and eLearning (ODeL) Virtual Conference, the university held an ODeL Postgraduate Student Consortium on 4 August 2022, where students from various universities presented their current studies and exchanged insights.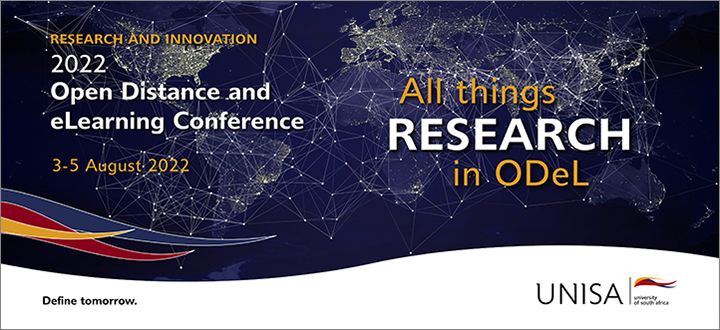 Prominent Unisa scholars who provided guidance and expertise to the students were Prof Moeketsi Letseka, project leader of the conference and the UNESCO Chair on Open Distance Learning (ODL); Dr Thulile Shandu-Phetla of the College of Human Sciences; and Dr Ramashego Mphahlele of the College of Education.
Letseka said that the consortium was a platform to network and share research ideas and challenges faced by postgraduate students. He remarked: "Sharing and discussing each other's research can provide opportunities for future collaborations." He added: "For us as scholars, it is a platform where we offer mentorship. We operate on an open-door policy, therefore, are available to interact, share information and guide you in your research journey."
Intriguing studies by students
Presenting on "The use of student data to inform teaching, learning and student support in ODL", Unisa student Fidel Mugunzva said that student data generated by ODeL institutions is expanding exponentially as digital systems are increasingly integrated into teaching and learning activities. His study's research questions include how ODeL institutions enhance data literacy among academic staff, and the challenges faced by these institutions in using learning analytics and predictive analytics.
Unisa's Grace Adeleke's study focuses on "Teaching presence as academic support for students with disabilities in ODeL context". She noted: "There are insufficient studies that examine the integration of teaching presence relating to students with disabilities in ODeL." She continued: "This creates a gap between the effectiveness of this sort of academic support system for these students and their experiences." Among her objectives, she explores the experiences of students with disabilities relating to Unisa online courses, and the academic support that the institution provides for them.
Christy Kotze, a Unisa PhD candidate, focused on "Mentorship for teacher empowerment in the pre-service phase to drive SDG4 in Southern Africa: An ubuntu-orientated mentoring perspective". The main aim of Kotze's study is to explore the mentorship needs and experiences of student teachers, and determine how the ubuntu philosophy can be adopted as a framework for transforming the student teachers' teaching practice.
The University of Fort Hare's Zukani Ncediswa's study entitled "COVID-19 induced online learning: The South African experiences" seeks to examine the impact of the pandemic on the sudden shift from face-to-face to online teaching and learning in schools. She stated: "Considering that some are government schools, and some are privately owned, they are not equally resourced. The issue of resources had a huge impact during the COVID-19 pandemic, which motivated the focus of my study."
Philasande Nzuza, a Unisa master's candidate, presented on "Visualisation in Grade 12 height and distances in trigonometry: A case study of Zululand district in KwaZulu-Natal province". For Nzuza, a range of educational policies indicate poor performance in mathematics across all levels of South African school systems. Her study's objectives are, among others, to explore teachers' teaching strategies of height and distances in trigonometry, and to suggest possible ways of implementing effective visualisation in the teaching and learning of height and distances.
The conference concludes on 5 August 2022 with another postgraduate student consortium as one of the last sessions. Letseka concluded by encouraging students to avail themselves for these sessions and for other future academic engagements.
* By Nancy Legodi, Acting Journalist, Department of Institutional Advancement