College of Human Sciences
Celebrating Women's Month, the Department of Health Studies in the College of Human Sciences visited the A Re Aganeng Old Age Home in Makapanstad Village, North West Province. The visit forms part of their community engagement project with the home.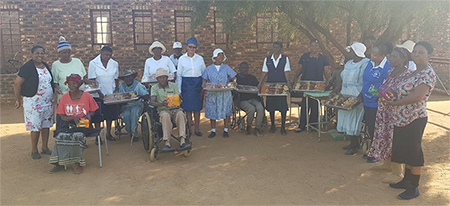 The Department's Dr Debbie Habedi said old age is not a choice, that is why we care and develop our aged together with their caregivers. "At least there is progress at this site since our last visit of 10 May 2018 because three nurses were employed, one Professional Nurse and two Enrolled Nursing Assistants.
"The aged were provided with activities to help them perform activities of daily livings which included everything from bathing, using the toilet and getting dressed in the morning. Laundry staff, cleaners, cooking staff, security officers, administration and caregivers in general were also in-serviced in that regard. The vegetable garden also looked great."
She said colleagues from Unisa Development and Special Projects and University Estates, Mr Makhaga and Mr Modjadji, are taking care of the site plan. The community engagement project team members are also working on motivations for obtaining grants from outside of Unisa.
"Regarding incorporation of our community engagement activities in our key performance areas is also taken care of. Public Health, Community Health Nursing, Heath Sciences Education and Health Services Management experiences of the academics play a vital role. Continuing Professional Development in South Africa has predominantly been delivered through didactic lectures. Generally, learning is promoted when more interactive techniques and discussion are used. So, this community engagement project will continue to address the needs of the aged and the caregivers by creating interactive group discussions and workshops on issues identified at the facility."
Dr Habedi thanked all those who made the Women's Month visit a success.
*Compiled by Dr Debbie Habedi (Department of Health Studies)