Alumni
Unisa's Council Bursary is going a long way towards making education possible for needy students and improving throughput rates.
Half of the funds was specifically earmarked for bursaries for undergraduate students. Thus, close to R50 million was made available to assist deserving students, who would not have been able to further their studies at Unisa because of a lack of funds. The rest of the funds, or approximately R49.5 million, went towards incentives for both undergraduate and master's and doctoral students who have completed their qualifications within the minimum prescribed period of time, by refunding 30% of their study fees. This is a win-win situation: diligent students completing their studies within the required time will, in turn, contribute to an improved throughput rate for the university.
To date, close to R46 million of the bursary part of the funds has been utilised to assist 6 346 students with study bursaries. Who benefited? Below is a synopsis of how the funds were distributed.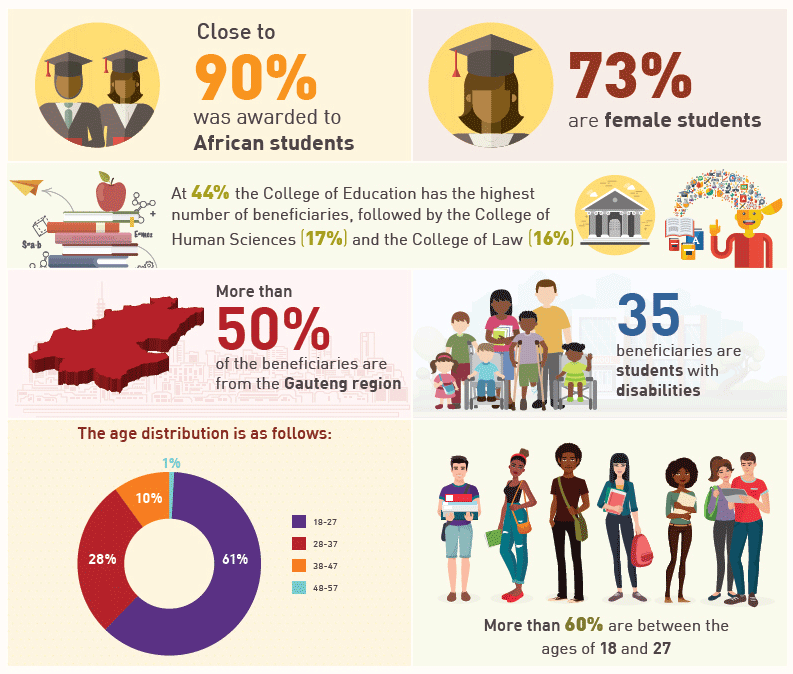 For more information on the distribution of the funds, click here.
Save